Seeing Double: Celebrity Duos that Passes as Twins!
Don't you sometimes wish there is another of your beloved celebrity? You know, like another Keanu Reeves? We could definitely use another Reeves in Hollywood. Unfortunately, the star doesn't have a twin, and neither do a lot of our favorites. A lot of our celebrities have lookalikes off-screen, though, just like Ariana Grande! However, we rarely find our stars having famous doppelgängers. You've seen the uncanny resemblance of Katy Perry and Zooey Deschanel from Perry's Not the End of the World music video, but there's a lot more of them than we thought.
For one, have you ever seen the startling similarity between Mick Jagger and Harry Styles? Did you realize it just now? Well, we have more of that! We've compiled a list of some of the most surprising celebrity duos that undoubtedly pass as twins. Some of them will make you think they're related to some degree. You've probably seen a lot of these celebrities before but never noticed the striking resemblances. If you're interested to see your favorite stars' lookalike, then better read on!
Jada Pinkett Smith and Zoe Saldana
49-year-old Jada Pinkett Smith is an American actress, producer, talk show host, and businesswoman with undeniable skills in financial planning. Her career in the entertainment industry started in 1990 on the short-lived television show, True Colors. She then starred in the television series, A Different World. 42-year-old Zoe Saldana, on the other hand, is also an American actress who rose to prominence after her impressive performances with a theater group called, Faces. We first saw her in an episode of Law & Order back in 1999 and starred in Center Stage a year later. She is now a beloved Marvel Cinematic Universe superhero, Gamora, primarily seen in the Guardians Of The Galaxy films.
These actresses are surely two of Hollywood's greatest assets. However, what people do not realize is that they are the spitting image of each other. In fact, they are close enough in age to be sisters with only seven years apart. They look a lot more like each other than Zoe does with her own biological sister.
Will Ferrell and Chad Smith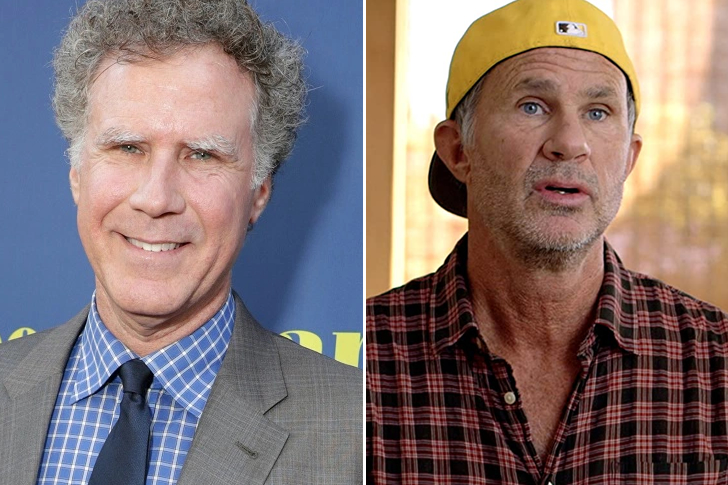 American actor and comedian Will Ferrell is one of the biggest stars in Hollywood. This 53-year-old first established himself in the world of entertainment in the mid-nineties as one of the first cast members of the NBC comedy sketch show, Saturday Night Live. Will has starred in various films since then, including the 2003 family movie Elf. On the other hand, Chad Smith is one of the greatest musicians in Hollywood history. After all, he has been the drummer of the renowned band Red Hot Chilli Peppers since 1988. Moreover, in 2012, their band was inducted into the Rock and Roll Hall of Fame.
The degree of difference these two stars had when it came to what they did in the entertainment industry is pretty much far from being alike. However, their looks tell us otherwise because they look like each other's mirror image. Honestly, you can even tell who is who.
Margot Robbie and Jaime Pressly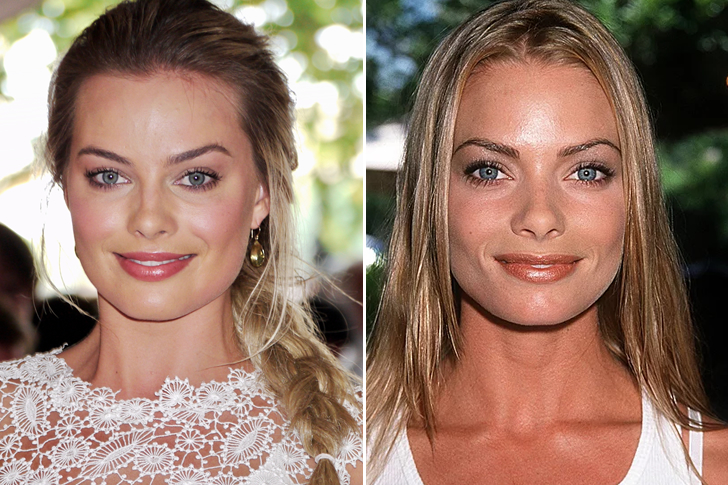 Margot Robbie is one of the biggest names in the entertainment industry these days, thanks to her recent high-profile projects. She has already received numerous nominations from prestigious award shows, including two Academy Awards, four Golden Globe Awards, and five BAFTA Awards. Margot starred in critically acclaimed movies such as The Wolf Of Wall Street and Once Upon A Time In Hollywood. Fellow actress Jamie Pressly is also a prominent name in the entertainment industry. She is popularly known as Joy Turner on the television sitcom; My Name Is Earl. She has received several awards, giving credit to her excellent performances through the years, including an Emmy Award and a Golden Globe Award. She has appeared in numerous blockbuster hit films like Not Another Teen Movie, and I Love You, Man.
The 30-year-old Margot is thirteen years younger than Jaime, but you would be surprised at how alike these two are, image-wise. They could be twins!
Amy Adams and Isla Fisher

Amy Adams and Isla Fisher are far more than just two red-headed beauties who can be mistaken for twins. After all, they do tend to sound alike too. No, it was not Isla who starred in the musical film, Enchanted. It was Amy. In addition to that, Confessions Of A Shopaholic starred Isla, not Amy.
Amy Adams is widely known for her dramatic and comedic roles. She has appeared in several critically acclaimed films, including Nocturnal Animals, Arrival, and American Hustle. She is one of the highest-paid actresses today, with a jaw-dropping net worth of $60 million. She must have property investments all over the United States with that much fortune to her name. On the other hand, Isla is not only a renowned actress but also an author. She has written several books at 45, including Marge in Charge and Marge and the Pirate Baby. Her net worth is a lot bigger than Amy's at $160 million as of 2020.
Emily Kinney and Evanna Lynch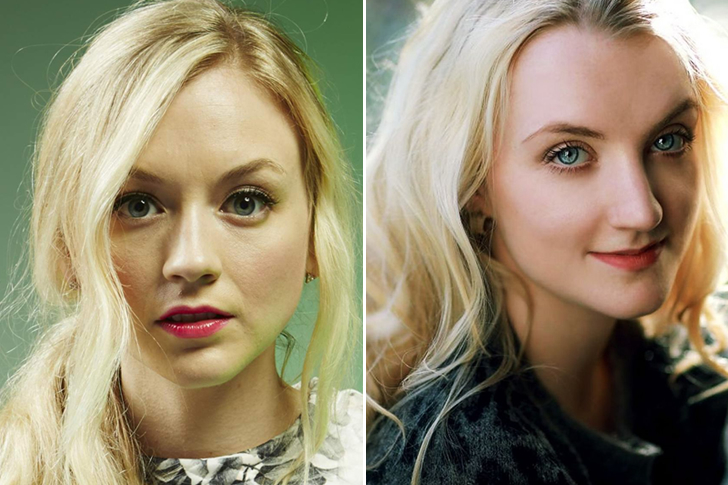 Emily Kinney is not only an actress. She is also a singer-songwriter. As a musician, Emily already released five albums, one of them is called The Supporting Character. However, this star is popularly known for her role in the horror drama television series, The Walking Dead as Beth Greene. She has also appeared in numerous television series, which included The Flash and Arrow. Evanna Lynch, however, is not a singer like Emily. Evanna is famous for her role as Luna Lovegood in the renowned movie series Harry Potter. Emily has a staggering net worth of $3 million, while Evanna has a whopping $4 million. These two must have a financial advisor who helps them oversee their assets.
These amazing actresses are not just known for their roles over the years, but the fact that these two look incredibly alike. No, they are not related at all!
Chord Overstreet and Austin Butler

Chord Overstreet and Austin Butler are the spitting images of each other, but only Austin has never sung on-screen. These two look like they could be brothers, just like real-life brothers Liam and Chris Hemsworth or the twins Mary-Kate and Ashley Olsen.
American actor, Chord is widely popular for his role in the renowned television series, Glee. Being a cast member on this musical show meant that he could sing. Moreover, in 2016, Chord released his debut single titled Homeland. This rising star has an estimated net worth of $1 million, with a couple of investments to boot. We should mention another amazing celebrity: Austin, with a jaw-dropping net worth of $4 million. After all, he is a great actor famous for his role as James Wilkerson in Switched At Birth, a television series. He also starred as Tex Watson in the critically acclaimed film titled Once Upon A Time In Hollywood.
Henry Cavill and Matt Bomer

English actor Henry Cavill and American actor Matt Bomer look like they could be each other's clones. These gentlemen with smoldering good looks and perfect jawlines make it difficult for them to go unnoticed on-screen. After all, they have starred in several films. At first, you would think these handsome actors are the same person, but no, they are even far from being related.
Henry is the face of DC Extended Universe's Superman these days. This 37-year-old star also plays the role of Geralt of Rivia in the renowned Netflix fantasy series, The Witcher, beginning in 2019. On the other hand, Matt got his Bachelor of Fine Arts degree from Carnegie Mellon University with fellow actor Joe Manganiello. You just know his destiny was always to be a great Hollywood actor with numerous accolades, including a Golden Globe Award. Both of these men are clearly good-looking and talented. No wonder people swoon over them.
Alicia Silverstone and Kristen Stewart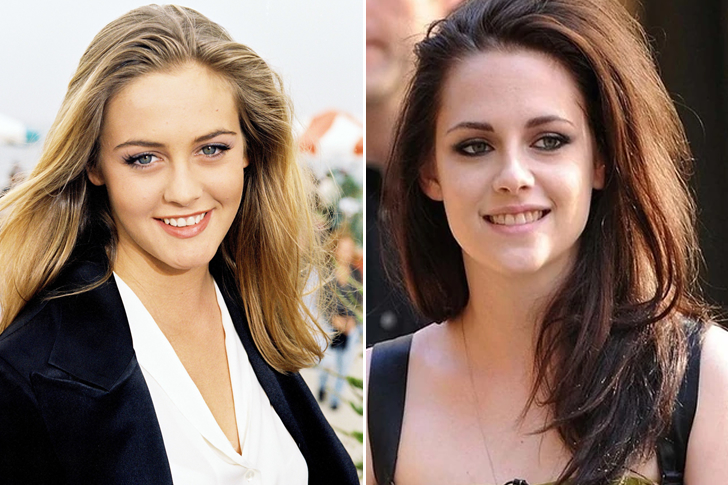 The striking resemblance between Alicia Silverstone and Kristen Stewart is not always noticeable at first glance. Maybe because we often see Alicia for her iconic role as Cher, a sunshine-filled character from the nineties blockbuster film, Clueless. Meanwhile, Kristen played the emo-sad girl, Bella Swan, filled with angst, in the Twilight movie series. However, if you put them side by side, there it is! Alicia and Kristen look like they came from the same family tree.
Alicia is a 44-year-old actress who was one of the biggest actresses in Hollywood back in the nineties. Her most prominent film credit might be from Clueless, but she rose to prominence due to her role as Adrian Forrester in the thriller movie, The Crush. The project ultimately earned her an MTV Movie Award for Best Breakthrough Performance in 1994. The 31-year-old star, Kristen, is still one of the biggest names in the entertainment industry. In fact, in 2019, she starred in the long-awaited remake of Charlie's Angels.
Jessica Chastain and Bryce Dallas Howard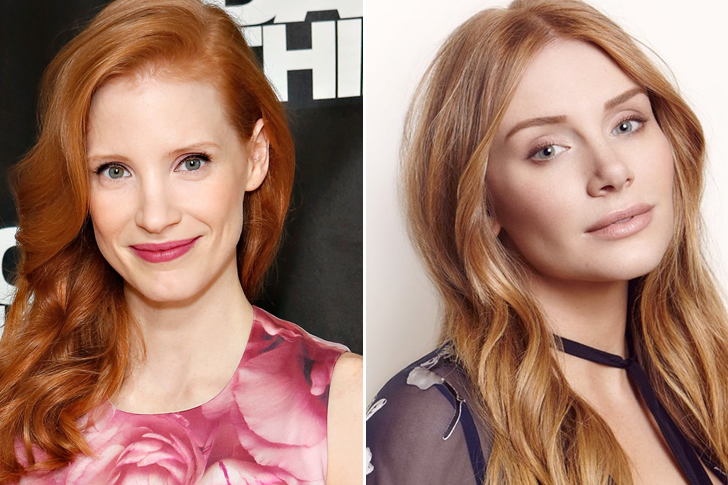 Jessica Chastain and Bryce Dallas Howard are both stunningly gorgeous redheads who have a four-year age difference. However, they look like they could be twins. They even both starred in the critically acclaimed film The Help back in 2011.
Howard comes from a family of entertainment industry personalities. She is the eldest daughter of the respected filmmaker Ron Howard. She earned her degree from New York University's Tisch School of the Arts. You just know she was destined for the screens. She is one of the stars in the Jurassic World film series. Chastain, on the other hand, is not only an actress, but she is also a producer who has received numerous accolades. She won a Golden Globe Award for Best Actress and even got two nominations for an Academy Award. She was in the blockbuster hits Molly's Game and Interstellar.
Rachel Bilson and Selena Gomez

Selena Gomez is one of the biggest names in the entertainment industry. She first rose to prominence after she starred in the Disney Channel television series Wizards Of Waverly Place from 2007 to 2012. However, after the show ended, she focused more on her music career. As of 2020, Gomez's net worth is estimated to be around $75 million dollars, some of which come from her property investments all over the world. Rachel Bilson, on the other hand, is an amazing actress who was born into a family in show business. She made her movie debut back in 2003, landing the role of Summer Roberts on the television drama series The O.C.
Just like Gomez, Bilson was destined to be in the entertainment industry. Moreover, at this point you can already tell that these two look like they came from the same family with their dark hair and doe eyes.
Dane Cook and Skylar Astin

Dane Cook and Skylar Astin both have that cute boy-next door look. You might even say these handsome gentlemen are related, but they are not. However, they should be cast as brothers in a movie for how similar they look!
Cook is a well-known stand-up comedian. He has released five best-selling comedy albums. When he's not selling out giant venues like Madison Square Garden, the 49-year-old is also known for his work in films such as Good Luck Chuck and the television shows American Gods, Maybe Next Time, and Shorties Watchin' Shorties. Astin is not only an incredible actor, but an amazing singer too. He is popularly known for portraying the role of Jesse Swanson in the musical film series Pitch Perfect. As of 2020, this 33-year-old has an estimated net worth of $1 million. He must have a financial advisor who helps him oversee his assets.
Chandra Wilson and Alex Newell

Chandra Wilson is a renowned director and actress. She is widely known for her role as Dr. Miranda Bailey in the television drama Grey's Anatomy. Wilson was nominated four times for the Emmy Award for Supporting Actress. After all, her performance on-screen is impeccable that is why this drama series is her biggest television credit. As of 2020, her net worth is estimated to be around $10 million.
Wilson's look-alike Alex Newell is also an amazing actor who sings too. He is popularly known for his role as Unique Adams in the renowned musical television series Glee. He also starred in the Broadway revival of Once On This Island, back in 2018. This 28-year-old has a net worth of $1.1 million. They are a mirror image of each other. In fact, Newell could actually play the younger version of Wilson.
Chace Crawford and Ian Somerhalder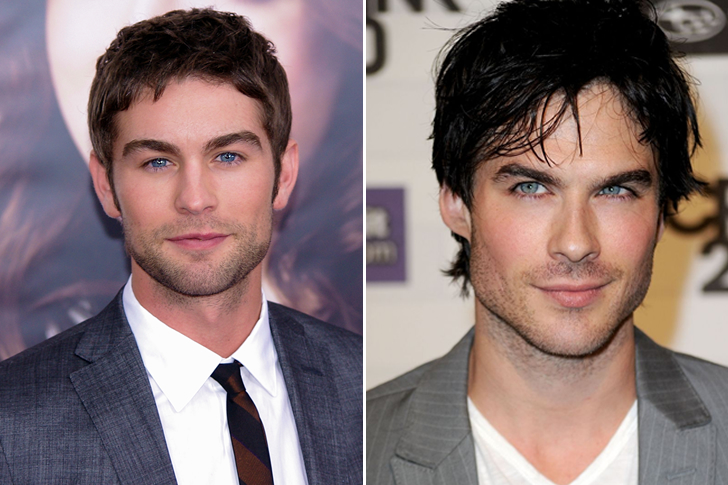 If you put Chace Crawford and Ian Somerhalder in one on-screen project together, there is no doubt in everyone's mind that it would be a blockbuster hit. It sort of happened, only Somerhalder was in Vampire Diaries and Crawford was in Gossip Girl, but they were both on air at the same time. Not only do these handsome actors have an almost identical bone structure, but they also have the same smoldering good looks.
Crawford is also famous for starring in movies like The Haunting Of Molly Hartley, The Covenant, and What To Expect When You're Expecting. He has been nominated for a Teen Choice Award numerous times. As of 2020, he has a staggering net worth of $6 million. Somerhalder, on the other hand, is still one of the most famous faces in television. Apart from his undeniable success playing a vampire on-screen, he is also famous for playing Carlyle in the television drama Lost. The 42-year-old has been happily married to Nikki Reed since 2015. With his jaw-dropping net worth of $12 million he clearly has a lot of investment money at this point.
Jeremy Irons and Daniel Day-Lewis

Jeremy Irons and Daniel Day-Lewis are both English actors who look so much alike, you could easily mistake them for twins at first glance and brothers. However, these stars are far from being related. They are just a spitting image of each other.
In 1969, Irons started his acting career on stage, appearing in multiple West End theatre productions, most of which were written by Shakespeare. He then got a Tony Award for Best Actor after his Broadway debut in Tom Stoppard's The Real Thing. As of 2020, his net worth is already at $16 million, so he must have been doing a lot of financial planning over the years to protect his assets. Day-Lewis has won several awards, including three Academy Awards for Best Actor. He has appeared in critically acclaimed films such as Gangs Of New York and Phantom Thread. He has an estimated net worth of over $60 million, making him one of the wealthiest men in Hollywood.
Katy Perry and Zooey Deschanel

Katy Perry and Zooey Deschanel are two of the biggest stars in Hollywood who are not only famous for the names they have built for themselves in the entertainment industry. Aside from their successful careers, they are known for looking a lot like each other. These extremely talented celebrities look like they could be twins.
Deschanel was born into a show business family. Her mom is also an actress just like her while her dad is a renowned cinematographer. She gained so much popularity for starring in New Girl, which aired from 2011 to 2018. She also starred alongside Joseph Gordon-Levitt in 500 Days Of Summer. Moving on to Perry, she rose to stardom when her second album, One Of The Boys, came out in 2008. The album spawned hit singles like I Kissed A Girl and Hot N Cold. As of 2021, Perry's net worth is at $330 million, some of which come from her property investments all over the world.
Ellen Barkin and Cameron Diaz

Cameron Diaz is one of America's darlings. She came to prominence with The Mask and has since appeared in a slew of comedic films, such as There's Something About Mary and Charlie's Angels. In 2017, Diaz announced her retirement, which crushed thousands of people's hearts. When she ascended to a certain degree of fame, it was clearly obvious that she resembled another star from an earlier age, Ellen Barkin.
Barkin and Diaz have such a strong similarity that it would make sense to speculate that Barkin may be Diaz's mother. As both actresses get older, their physical appearances become more identical. Barkin may not be as well-known among younger fans as Diaz, but she has also enjoyed a successful career in show business. She's done it all in Hollywood, from her breakthrough appearance in Diner to her days as a director.
Sarah Hyland and Mila Kunis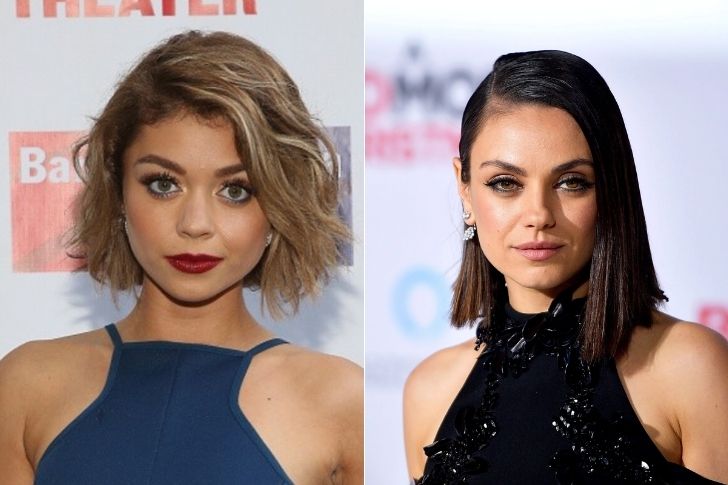 It's an age-old misconception that there's someone who looks just like you everywhere on the planet. This doppelgänger not only lives in the same town as Sarah Hyland, but also works in the same business. It's no secret that the pint-sized Modern Family actress looks a lot like Mila Kunis from That '70s Show.
Kunis is just eight years her senior, but the two have an uncanny resemblance and could pass off as twins. They even appear to have the same hairstyles all the time! Kunis has been seen with sassy short hair recently, and guess who else has gone for the big chop? Why, her Hollywood twin, of course! Hyland's heritage is a blend of Irish, English, Scottish, Welsh, Dutch, and German, while Kunis is Ukrainian. The two have the same noses, brow arches, and are both brunettes. The degree of disparity between these two actors when it comes to what they did in the film world is almost incomparable.
Jeffrey Dean Morgan and Javier Bardem

Javier Bardem and Jeffrey Dean Morgan are one of the most accurate representations of doppelgängers. These two actors are only three years apart in age, with Bardem being 52 and Morgan being 55. Bardem is from Madrid and is the first and only Spanish actor to win an Academy Award for Best Supporting Actor. Morgan, on the other hand, hails from Seattle, Washington. Despite their cultural backgrounds, they have a striking resemblance in appearance, which makes you wonder if they were split at birth.
Both actors have their own claim to fame, with Bardem being known for his performances in award-winning films like No Country for Old Men and Vicky Cristina Barcelona. Morgan has appeared on popular television shows such as The Walking Dead, Supernatural, and The Good Wife. With these actors' longstanding careers, we are confident that their investments are very comparable.
Jai Courtney and Phillip Phillips

Anyone hoping to fall for the grown-up A Good Day to Die Hard hero Jack McClane is in luck. Thanks to his celebrity doppelgänger, Phillip Phillips, you can have two of Jai Courtney. The budding action star Jai Courtney and American Idol winner Phillips have an uncanny similarity, but we are pretty sure their notoriety and investments aren't identical. This is the only moment you'll enjoy seeing double.
Courtney is an actor from Australia. Before being cast as Charlie in the action film Jack Reacher, he had minor appearances in films and television shows. He also appeared in films such as A Good Day to Die Hard, I, Frankenstein, and The Exception. Phillips, on the other hand, is an American singer, songwriter, and actor who won American Idol's eleventh season in 2012. Home, his coronation song, became the most popular song in American Idol history.
Zachary Quinto and Eli Roth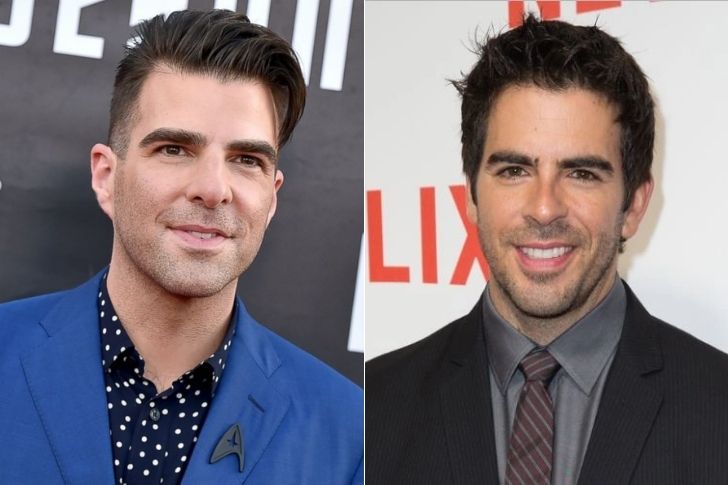 Looks-wise, actor Zachary Quinto and director Eli Roth are frighteningly alike. In fact, some internet conspiracy theorists believe they are the same guy. They have also both gained a massive degree of achievement in their respective industry. However, you are unlikely to switch them up because Quinto is an actor, while Roth prefers to work behind the camera.
Eli Raphael Roth is a film director, producer, author, journalist, and actor from the United States. He is most known for directing the horror films Cabin Fever and Hostel. Roth is most closely associated with the horror genre as a director and producer. Zachary John Quinto is an actor and film director from the United States. He is most known for his appearances as Sylar, the main character in the science fiction television series Heroes, and as Spock in the Star Trek film franchise.
Dana Delany and Mimi Rogers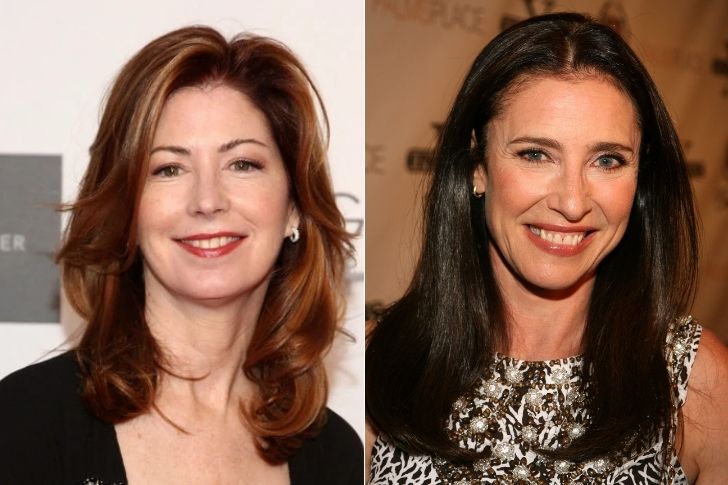 Dana Welles Delany was born in New York City on March 13, 1956, and grew up in Stamford, Connecticut. Dana knew she wanted to be an actress when she was a kid. This tall beauty moved to New York after graduating from Wesleyan University and honed her talents working in the daytime. Mimi Rogers is one of the most versatile actresses of her generation. She has proven her degree as an actress after 20 years and over 50 film appearances. She started to carve a niche for herself in Hollywood in the early 1980s, starring on various television shows.
These two women have evolved significantly over time. However, they've both looked and sounded strikingly alike. They have never collaborated before, which is odd. They can do something together where they can play sisters! Otherwise, their sisterly appearance would be squandered for all time.
Drea de Matteo and Portia de Rossi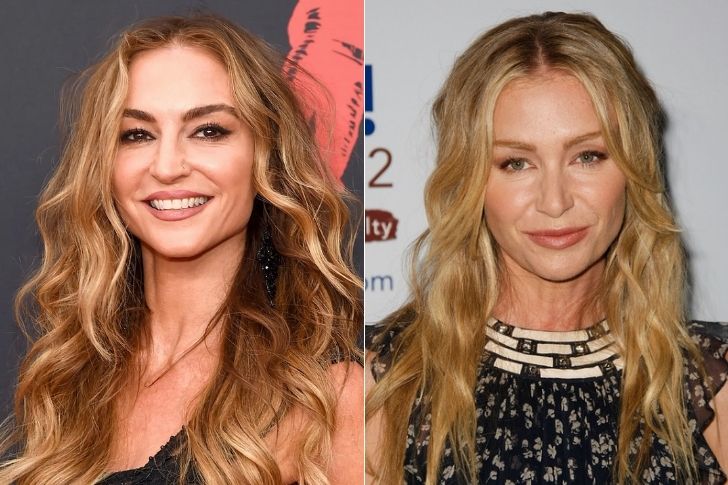 We think we just found Portia de Rossi's missing twin. It's The Sopranos and Desperate Housewives star Drea de Matteo. They are not just one year apart in age, but they also share those gorgeous lips and cheekbones. Portia de Rossi made a name for herself by being an actress, businesswoman, philanthropist, and former model, while her lookalike preferred to take on more serious roles in the industry.
De Matteo is best known for her appearance as Adriana La Cerva on HBO's The Sopranos, in addition to her roles as Angie Bolen on Desperate Housewives, Gina on Joey, and Wendy Case on Sons of Anarchy.These characters certainly boosted her degree of fame. These two are just so beautiful that it makes sense that they would look alike. Apparently, there's one more blonde in the neighborhood who holds similar features as De Rossi, and that's De Matteo. We're curious as to Ellen Degeneres' reaction to this.
Jordana Brewster and Demi Moore

Demi Gene Moore is an American actress and film producer. After making her film debut in 1981, she appeared on the soap opera General Hospital and subsequently gained recognition as a member of the Brat Pack, with roles in Blame It on Rio and St. Elmo's Fire.
Let's face it, every girl on the planet wishes she had Moore's figure and uncanny appearance. Well, you're not seeing double looking at her and Jordana Brewster. They have a similar appearance. Brewster will brag about it, fortunately for her. She's also a prolific actress. She made her acting debut in an episode of All My Children in 1995 and next took on the recurring role as Nikki Munson in As the World Turns, garnering a nomination for Outstanding Teen Performer at the 1997 Soap Opera Digest Awards. Her breakthrough role as Mia Toretto in the Fast and Furious franchise helped her establish her degree of fame in the entertainment business.
Emmanuelle Chriqui and JWoww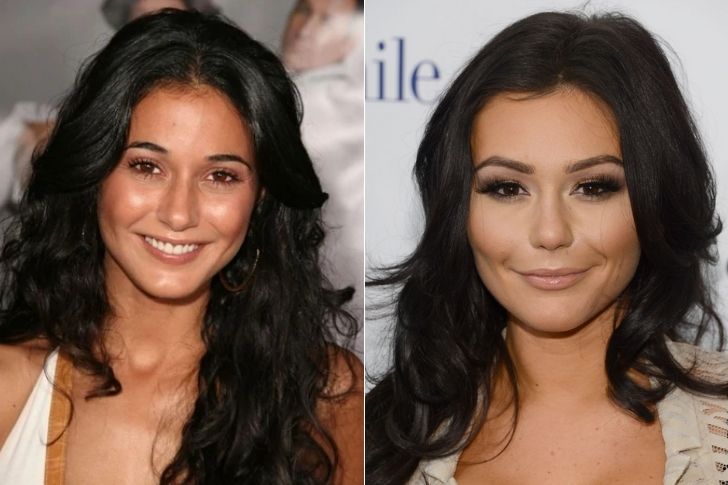 Emmanuelle Sophie Anne Chriqui is a Canadian actress and model. She is known for her role as Sloan McQuewick on HBO's Entourage, as well as Dalia, the love interest of Adam Sandler's character, in You Don't Mess with the Zohan. She is also known for her appearance as Lorelei Martins on The Mentalist.Jennifer Lynn Farley, also known as JWoww, is an American television personality. She rose to fame as one of the eight core cast members of the MTV reality show Jersey Shore and its spin-off Snooki & Jwoww.
Chriqui and JWoww are a many better than two brunette-haired beautiful women who may be mistaken for twins. They do, after all, have a propensity to sound similar. It was Chriqui who played JWoww in the film Entourage, not JWoww. The degree to which these two celebrities look alike is simply astounding.
Benicio Del Toro and Brad Pitt

It's been said that everybody has a twin. Can you ever see a celebrity and presume you know who it is, only to find out it's a very different celebrity with the same appearance?While Brad Pitt from Ocean's Eleven lacks olive skin, he bears a striking resemblance to Puerto Rican actor Benicio Del Toro. Del Toro has a few years on Pitt and dark hair instead of blond, but their facial features are very similar, and they make the same gestures. Perhaps this should be called Separated at Birth.
The two actors become especially similar looking when they have a serious facial expression. Both men have won BAFTA awards and are talented actors, so they can't be confused when they're on television. We might confuse them for brothers, but the two have amassed a similar amount of wealth and investments.
Joseph Gordon-Levitt and Heath Ledger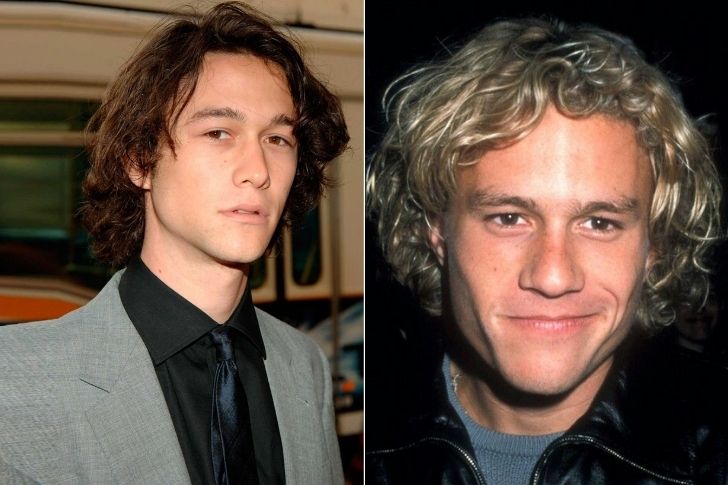 The startling resemblance between Heath Ledger and Joseph Gordon-Levitt was presumably first noted when they starred together in 10 Things I Hate About You. The resemblance was just too uncanny. Their squinty brown eyes, prominent brows, and heavy jaws were almost indecipherable over the next few years. The degree of difference these two stars have when it came to what they did in the entertainment industry.Joseph Leonard Gordon-Levitt is an actor, director, musician, and entrepreneur from the United States. He has won several awards, including Golden Globe nods for his leading roles in 500 Days of Summer and 50/50.
Heath Andrew Ledger was an actor, filmmaker, and producer of music videos from Australia. After playing roles in many Australian television and film productions during the 1990s, Ledger moved to the United States in 1998 to further establish his film career.
Fabio and Jon Hamm

Fabio Lanzoni is an Italian-American actor, fashion model, and spokeswoman known for a diverse career that includes appearances as a spokesperson for I Can't Believe It's Not Butter and the American Cancer Society, while Jonathan Daniel Hamm is an American actor and producer who has starred in TV shows such as Mad Men, Good Omens, and Unbreakable Kimmy Schmidt.
Fabio and Hamm have enough facial similarities to make your mind boggle for the rest of your life. Yes, others might say that putting Don Draper from Mad Men in the same boat as a guy who appeared on the cover of almost every romance novel back in the day is a little unjust and odd. Regardless of how you feel about it, the degree of divergence between these two celebrities in terms of their work in the media industry is absolutely impressive.
Leighton Meester and Minka Kelly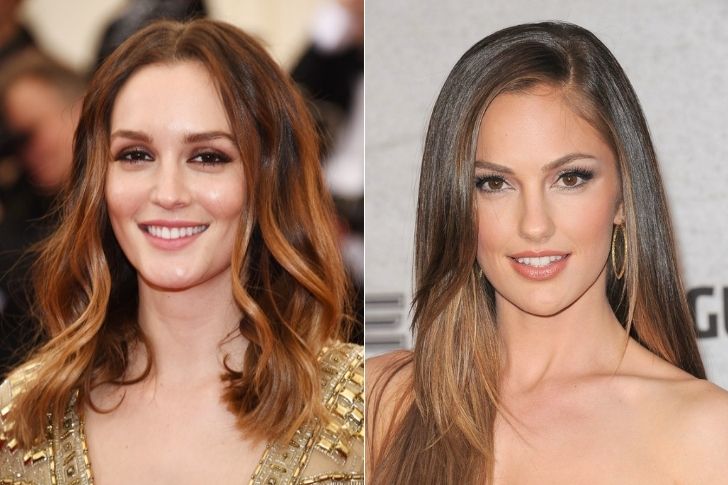 It's a known fact that Hollywood rips itself off all the time. One example is the popular thriller film Single White Female. Almost 20 years after this film came out in theaters, they made another film loosely based on it called The Roommate. This time, though, they made it about college students and kept it PG-13 in order to cash in on the lucrative teen market.
They cast Minka Kelly and Leighton Meester for the lead roles. The fact that they look almost alike helps, too. That aspect is crucial when casting a film in which what one girl has to impersonate the other. Meester is best known for her role as Blair Waldorf in Gossip Girl, while Kelly garnered fame for her role as Lyla Garrity in Friday Night Lights. Both actresses have received several awards and been given credit for their amazing performances through the years.
Victoria Justice and Nina Dobrev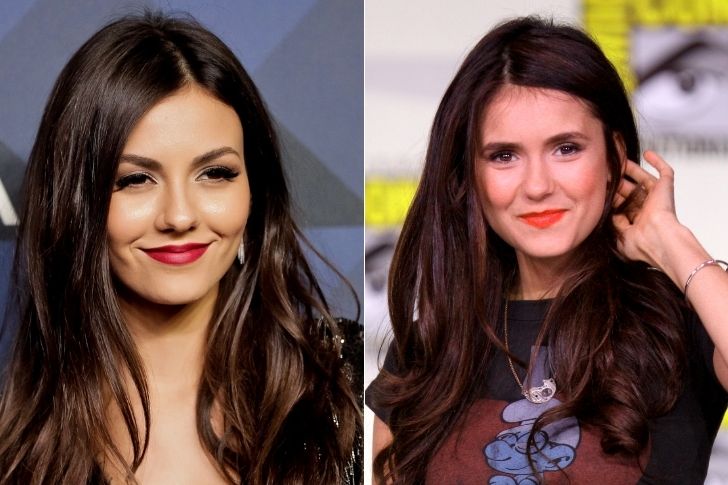 Nina Dobrev and Victoria Justice, like their ginger peers Bryce Dallas Howard and Jessica Chastain, have completely adopted their apparently familial skins. Despite the fact that Dobrev is four years older than Justice, the public has been mistaking the two for each other for years. Luckily, they are both good-natured about it and have even joked about it.
When presenting Dobrev with an award at The Teen Choice Awards in 2015, Justice referred to her as "my doppelganger." Following Dobrev's shocking departure from The Vampire Diaries, people also joked that Justice should take Dobrev's spot on the show to ease the suffering of the show's bereft viewers. Aside from their features, the two actresses also came into Hollywood when they were quite young. For sure, with their massive earnings, they will not be worrying about getting personal loans any time soon.
Tom Hardy and Logan Marshall-Green

For a long time, followers of pop culture thought Logan Marshall-Green resembled Tom Hardy and vice versa. It may have been the mustache. Maybe it was their sense of style. While Hardy is the more well-known actor, fans were struck by how much the two men resembled each other when Marshall-Green appeared in the 2012 science fiction film Prometheus.
Marshall-Green, on the other hand, has acknowledged how much they look alike. He said it has been an honor to get mistaken for Hardy. In addition, Marshall-Green is used to it as he has a twin brother. Despite the frequent case of mistaken identity, he has come a long way in his career and has since starred in Spider-Man: Homecoming and When They See Us. With both stars earning well, they don't have to apply for cash loans any time soon.
Millie Bobby Brown and Natalie Portman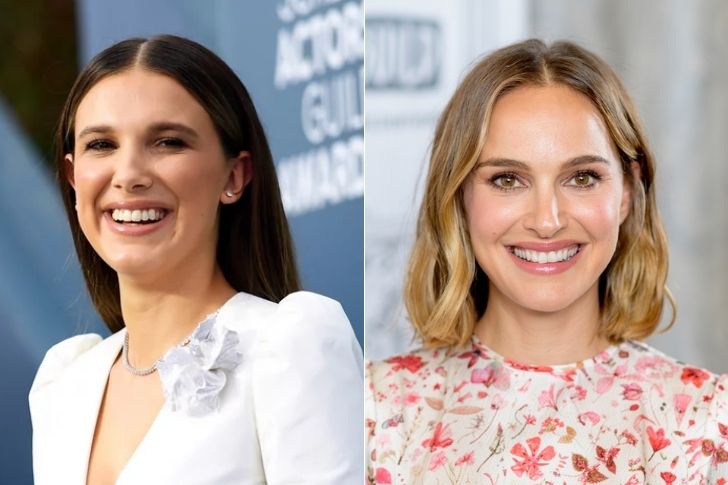 When you consider Natalie Portman's sci-fi history, is it possible that Millie Bobby Brown is Portman's clone? Okay, possibly not, but there are some uncanny similarities between the two. Brown, the star of Stranger Things, is the reigning ingénue of Hollywood. She burst onto the scene with a shaved head and a bloody nose, gaining her an Emmy nomination at 13 years old.
However, before Millie, there was Natalie. Portman began her acting career at the age of 13 in the 1994 film The Professional. At the age of 18, she rose to a certain degree of fame as Padmé Amidala in Star Wars: Episode I – The Phantom Menace. In 2005's V for Vendetta, she was the first to sport a shaved head. The internet discovered that the two looked eerily similar in almost every picture. Brown has expressed interest in playing a younger version of Princess Leia, and given Portman's role as Leia's mother, Queen Amidala, in Star Wars, this seems like the ideal casting!
Ed Sheeran and Rupert Grint

Rupert Grint and Ed Sheeran have a rich and distinguished connection. They have achieved a significant degree of success in their respective artistic fields as British redheads, but their similar looks have perplexed others — a fact they've accepted sometimes to humorous effect. Although the two Brits are close in age, Grint's childhood role as Ron in the fantastic wizardry universe of Harry Potter catapulted him to global fame. Meanwhile, Sheeran has risen to fame due to his chart-topping releases such as Photograph, Shape of You, and Thinking Out Loud.
Grint performed in the music video for Sheeran's Lego House in 2011, after his eighth and last chapter of the Harry Potter series. Fans caught the first meeting of the two Brits on camera, but the best image from that meeting could be a priceless side-by-side picture. It's uncertain if Sheeran is mistaken for his redheaded counterpart, but he'll soon be doing some acting of his own after his appearance in the Game of Thrones.
Bella Hadid and Jennifer Lawrence

Understandably, we continually compare Bella Hadid to her older sister, Gigi. After all, they share the same genes, work in the same industry, and, of course, walk the same red carpets. However, it turns out that the model looks a lot like another celebrity: Jennifer Lawrence. It's not something you consider right away, but it's difficult not to notice once you do.
Lawrence and Hadid have entirely different personalities but strikingly similar facial features. The beauties are often mistaken for each other in photos on many occasions, and we can't blame anyone for thinking they're related. Both the stunning model and the breathtaking actress have killer cheekbones, light, glistening skin, and — at one stage or another — identical hair colors, whether platinum blonde or silky raven. We can get them mistaken as sisters indeed, but the two have also built a comparable amount of fortune and investments.
Julie Bowen and Elizabeth Banks

We are too quick to assume Julie Bowen and Elizabeth Banks are the same people if they hadn't appeared in Modern Family together. These blonde actresses could, at the very least, make us double look. Banks rose to a degree of prominence on Broadway with roles in The 40-Year-Old Virgin and Spiderman. Her onscreen success has been skyrocketing since she won the Young Hollywood Award for "Exciting New Face" back in 2003. Her versatility worked in various genres, and her prolific acting has won her a slew of awards, including an Emmy.
Bowen's most recognized for her roles in the television shows Ed, Boston Legacy, Lost and Modern Family. She has performed in both film and tv with equal skill, establishing herself as a household name worldwide. These popular women have identical smiles and short blonde haircuts, making it difficult to distinguish between them.
Mick Jagger and Harry Styles

Although Harry Styles of One Direction is half a century younger than Mick Jagger of the Rolling Stones, there's no doubt that the adorable 1D member resembles the rock legend. They were frontmen for two of the most famous bands of their generation. Their stage presence is full of energetic singing and theatrical gestures and is undeniably close as well.
Both Jagger and Styles have appeared on the cover of Rolling Stone. The similarity between the two is remarkable — particularly in the hair department, as you might have guessed. The Rolling Stones' messy hairstyle became associated with them over time, and there's no doubt the look contributed significantly to Jagger's current popularity. It seems that Styles is following suit, to the point where he mimics the iconic singer every time. When you compare the two singers, you'll find that they have the same round eyes, wide lips, and sharp bone structure. While they're almost identical twins, we are pretty sure their fame and investments are close.
Thandie Newton and Zoe Saldana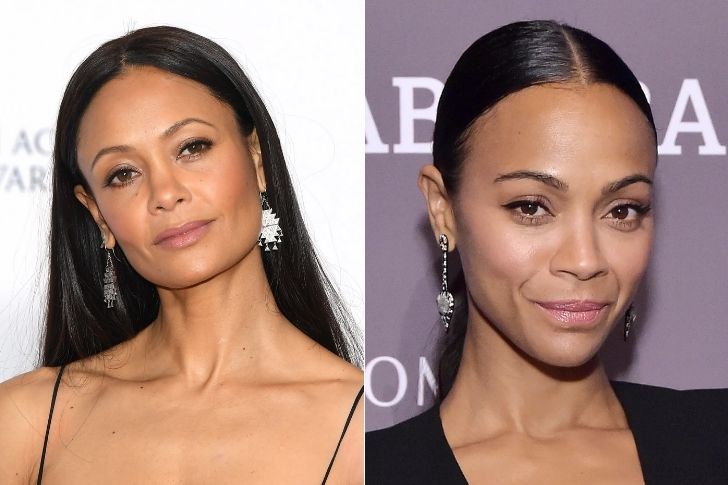 Thandie Newton once revealed that Victoria Beckham once mistook her for Zoe Saldana and had a whole conversation with her. Saldana herself also admitted that her mother confuses the two. The two actresses look like twins, that's for sure. Since her film debut in 1992, Newton has amassed an impressive number of screen credits. She played minor parts in films such as The Young Americans and Loaded, which helped her establish herself in the entertainment industry. Her immense success came when she appeared in the film Interview with the Vampire, followed by the blockbuster smash Mission: Impossible 2.
Saldana rose to prominence after starring in blockbuster films, including Star Trek and Avatar. She has had a lot of success so far, with a string of top-grossing cinemas worldwide. Her versatility hasn't stuck to one genre and has been evident in films covering a wide range of topics. These actresses look alike, but they also share the same passion and talents, making them more similar.
Jordana Brewster and Angie Harmon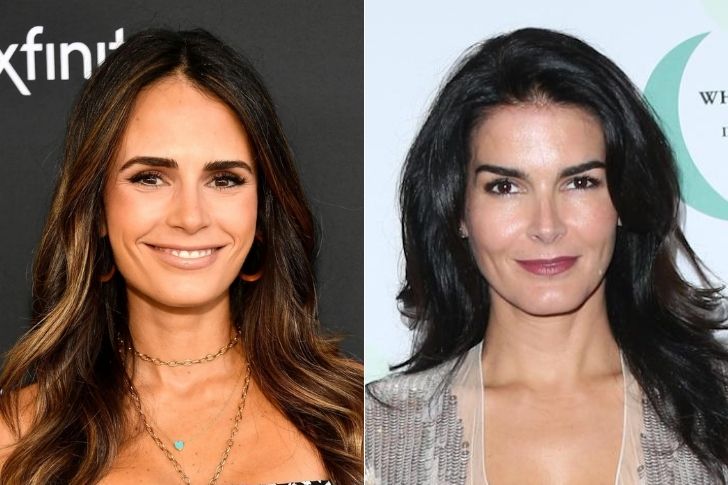 Jordana Brewster and Angie Harmon are likely mistaken for one another due to their square jawlines and raven-colored hair. Brewster started her acting career with a one-episode appearance in All My Children and a role on As the World Turns. Her performance in The Faculty attracted a much larger audience, garnered critical acclaim, and earned her degree of fame. Her breakout performance came in The Fast and the Furious franchise.
Harmon is an actress and model from the United States who has starred in various films and television shows. She started her career as a model before branching out into acting. In 1995, she made her acting debut on the television series Baywatch Nights. She's also done voice work, lending her voice to an animated version of the Batman Beyond: Return of the Joker film. These actresses indeed have a lot in common, from their looks to down to their advocacies.
Kelly Ripa and Sienna Miller

We never thought Kelly Ripa and Sienna Miller looked alike until we saw them side by side. Undeniably, there are more than two significant similarities between these two celebrities. Ripa is no surprise to us. The talk show host has been a fixture on our daytime screens since her breakthrough appearance on All My Children in the early 1980s. Her vibrant style works well for her as the co-host of Live with Kelly and Ryan.
Miller, on the other hand, started her career as a model before moving into acting. Her career took a giant leap forward in 2002 when she joined the High-Speed cast and appeared in The American Embassy. She did not begin to gain national recognition until Bedtime, which led to supporting roles in the adaptations of Layer Cake and Alfie. These characters certainly boosted her degree of fame, as well as bringing her name to the forefront. They indeed make us do a double-take with their heart-shaped faces and hazel green eyes.
Natalie Portman and Keira Knightley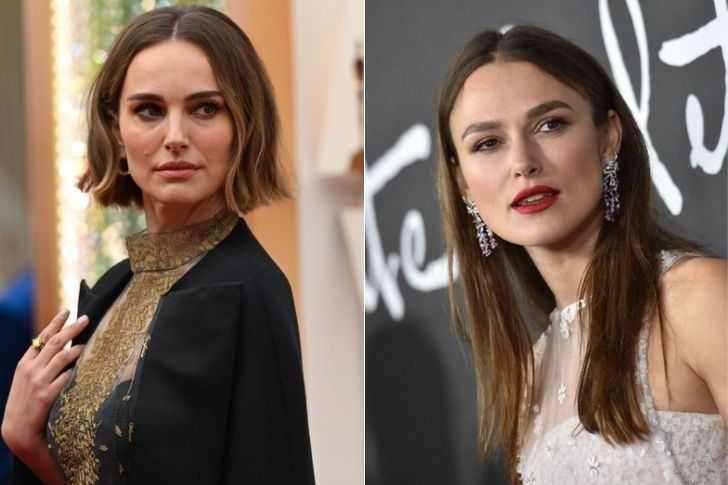 They could forgive us for believing they were the same – or at the very least long-lost sisters. They aren't, as it turns out. Natalie Portman has remained a Hollywood staple since her professional film debut in 1994, appearing in critically acclaimed films such as Black Swan and Jackie. The Jerusalem-born actress has had a successful career in the film industry, winning an Academy Award while still seeking academic achievement and earning a degree from Harvard.
Keira Knightley is one of her generation's most famous actresses. Since she was eight years old, the world has seen her grow up on television, from a child star to a leading Hollywood actress. Knightley's breakthrough role as Jules in the blockbuster Bend It Like Beckham earned her international attention, including a role in The Pirates of the Caribbean franchise. They have an uncanny similarity, and Star Wars is the source of inspiration. Knightley acknowledges that adoring fans mistake her for Portman, even adding that it has happened more than five times.
Tatyana Ali and Gabrielle Union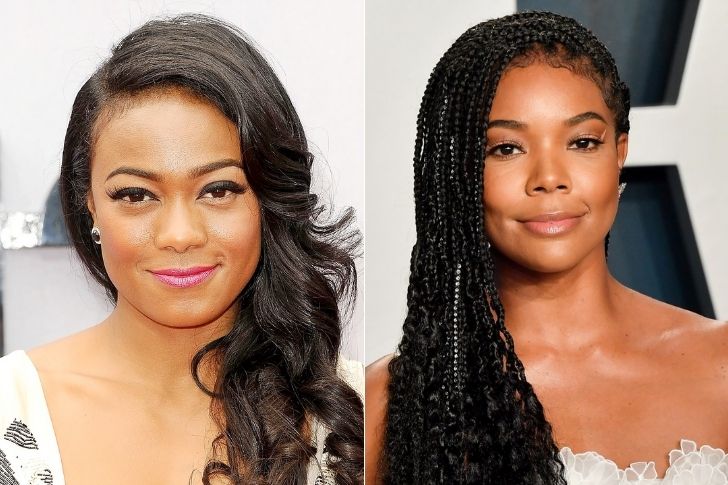 Tatyana Ali is best known for her six-season role as Ashley Banks on the television show The Fresh Prince of Bel-Air. Aside from acting, she's also a talented singer with two albums and three songs under her name. Ali became a member of The Young and the Restless cast, where she played Roxanne until 2013. She has carved out a niche for herself in the entertainment industry, having appeared in 32 films and 23 television shows.
On a similar note, Gabrielle Union has appeared in several movies and television series. She entered the limelight through modeling before landing minor acting roles in some of the most successful 1990s sitcoms and teen comedies. Her breakthrough came with her acting credits in the television series City of Angels and the film Bring It On. From their brown eyes and square-shaped face, Ali and Union have far too many similarities for them to be not related.
Zachary Quinto and Max Greenfield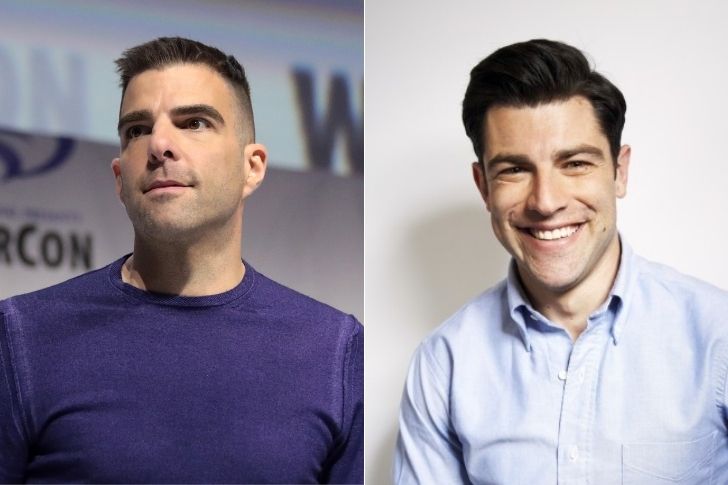 You'd convinced us if you claim that Max Greenfield and Zachary Quinto were long-lost brothers. Quinto played Spock in rebooted Star Trek film series and acted as the lead villain on the iconic supernatural television show Heroes. He gained his degree of fame for his appearance on FOX's 24. He is also known for his performance in So NoTORIous and has appeared on television shows like CSI, Charmed, and Six Feet Under.
In comparison, we recognize Greenfield for his role in the sitcom New Girl. His filmography contains many TV and film projects, some of which have garnered him many accolades. Max depicted a few authentic portrayals in his later career, including The Big Short, Hello, My Name Is Doris, and The Glass Castle. The actors share the same razor-sharp jawline and classically handsome features that distinguish them as Hollywood leading men.
Eva Marcille and Vanessa Williams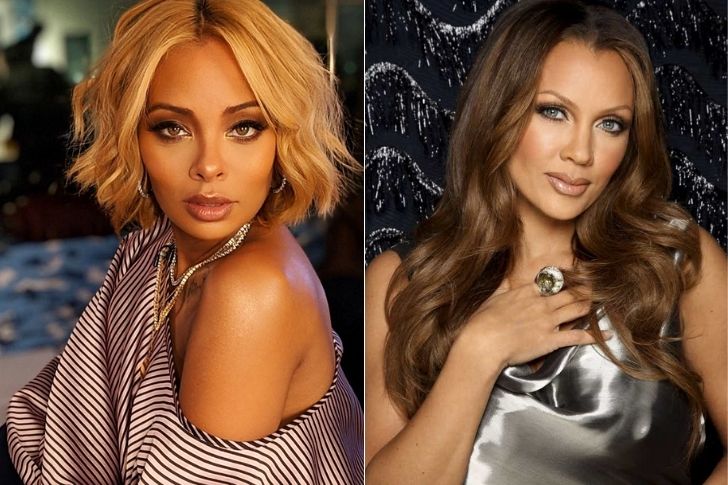 Eva Marcille is best known as the winner of America's Next Top Model's third cycle. Her victory in the competition secured her an Elle magazine spread, a CoverGirl Cosmetics deal, and a modeling agreement with Ford Models. Outside the modeling scene, she also guested on many shows such as Kevin Hill and Smallville. Marcille also appeared on The Real Housewives of Atlanta in Season 10 before being promoted to a full-time cast member in Season 11.
Vanessa Williams dedicated herself almost entirely to music and dance. She is the voice behind the song Colors of the Wind, which was a success in the mid-90s. Williams developed a similar acting degree in both film and television and became a highly popular all-around entertainer. Despite their age disparity, the two have similar light almond-shaped eyes and apparent angular features, rendering them dead ringers for the other.
Will Arnett and Patrick Wilson

Yes, they are two distinct individuals. The actor who plays Gob Bluth on Arrested Development is not the same as Ed Warren from The Conjuring. Will Arnett is known for his comedic performances in shows like 30 Rock and the sitcom Up All Night. He has also starred in several feature films, including Let's Go to Prison, Blades of Glory, and Show Dogs. He also did voice-overs for advertisements, animated films, cartoons, and video games.
On the other hand, Patrick Wilson is a horror film director who has worked on films such as Insidious. He has received critical and commercial acclaim for his memorable roles in films such as The Phantom of the Opera and Little Children. Throughout his acting career, he has had tremendous success with his roles and accolades. Given these actors' extensive Hollywood careers, we are pretty sure that their investments are very much alike as well.
Hilary Duff and Victoria Pedretti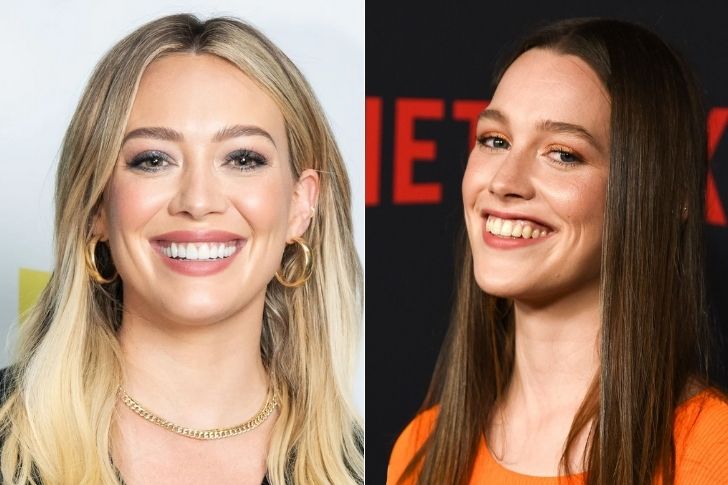 Prepare to do a double-take because Hilary Duff and Victoria Pedretti have arrived in town as the newest celebrity lookalike duo. You are probably aware that watching You is similar to watching Lizzie McGuire. Not because both protagonists give viewers life advice, but because they feature characters that look oddly similar.
Duff is one of the most adaptable celebrities of her generation. She has proven her degree as an actress, entrepreneur, and author throughout her career. Pedretti has already established herself as a leading lady thanks to The Haunting of Hill House and The Haunting of Bly Manor. With her recent success on Netflix, we expect to see many more of her on TV and in theaters. Of course, the doppelgänger hypothesis becomes even more complicated when you consider that Duff co-starred with Penn Badgley on Gossip Girl. Isn't there some crossover here?
Scarlett Johansson and Amber Heard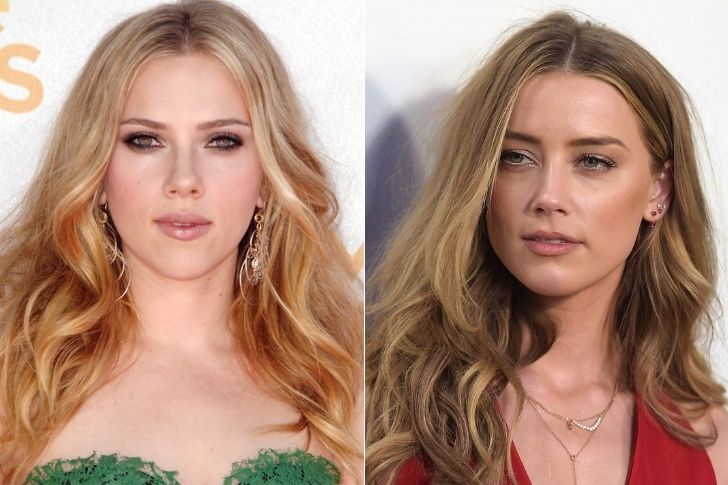 Every time Amber Heard walks the red carpet, she is channeling the red-carpet regular Scarlett Johansson. Heard made her acting debut in the sports drama Friday Night Lights and went on to play a variety of minor roles. Her breakthrough role came when she appeared as a supporting actress in several box-office hits, including The Pineapple Express and Never Back Down. She has since appeared in many commercially successful films and is known for her elastic and persuasive acting.
Johansson has successfully climbed the ladder herself, establishing her degree as a dominant performer and earning a place among the entertainment industry's A-List actresses. She gave breath-taking performances in a slew of films like Lost in Translation, The Avengers, and Hitchcock. Aside from their uncanny resemblances, Heard and Johansson share something more than their looks and choice of career: they have a similar flair for elegant fashion on the red carpet!
Emma Watson and Kiernan Shipka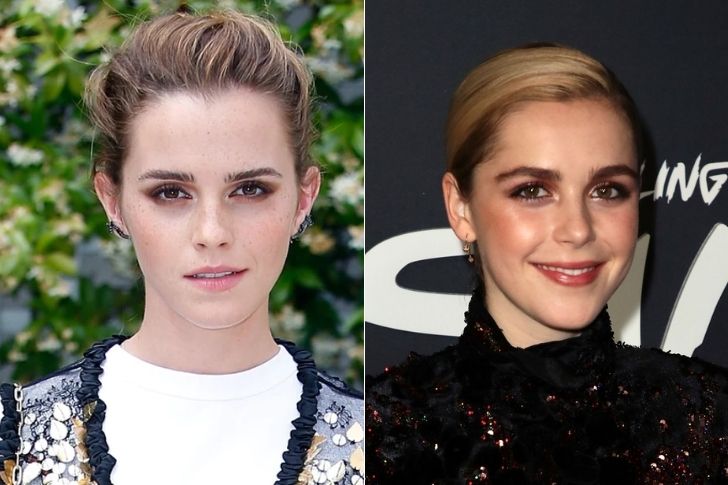 The Harry Potter alum Emma Watson and Monk star Kiernan Shipka can be mistaken for siblings. Aside from having a heart-shaped face, the two have deep set eyes and matching eyebrows that people will definitely do a double take when they see these two together. There had been an incident when someone mistook Shipka as Watson on Instagram! The young actress responded candidly which shows that this may not be the first time it happened.
Aside from their looks, both these actresses started off young. Watson began her career as Hermione Granger in the Harry Potter franchise, along with Daniel Radcliffe and Rupert Grint. Shipka, on the other hand, was in the hit TV series, Monk, when she was little. She later appeared as Sally Draper on Mad Men and is currently portraying the titular character in Netflix's Chilling Adventures of Sabrina. Clearly, the two came into Hollywood quite young. For sure, with their massive earnings, they will not be worrying about getting personal loans any time soon.
Helen Hunt and Jodie Foster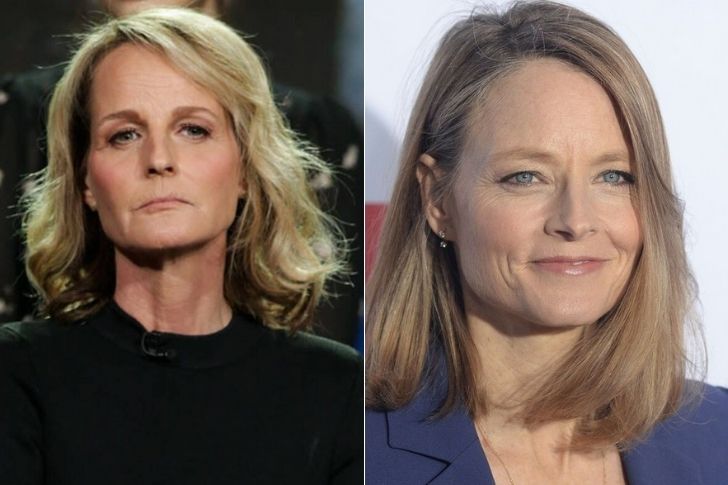 Hollywood celebrities might have gotten used to the fact of being mistaken for someone else just like in the case of actresses Helen Hunt and Jodie Foster. Both have taken Hollywood by storm and had brought home an Academy Award for Best Actress too. Their acting chops show that they can take on any role and bring it to life. In addition, they often talk about being mistaken for one another whenever they meet.
Hunt told David Letterman that she was often confused with Jodie Foster when she was starting out. At one point, a Starbucks' barista wrote "Jody" on her cup rather than her name, believing that she was the Panic Room star. Fortunately, both actresses are taking things in stride. Both are known for their investments in real estate too which is a good place to put your earnings.
Liam Neeson and Ralph Fiennes

Hollywood actors are hard to miss these days especially when they are doing pretty normal things. Their fans can easily spot them a mile away though many do have the tendency to mistake them for another star, just like the case of Hannibal star Ralph Fiennes, who often gets confused with Taken lead Liam Neeson.
This doesn't come as a surprise especially since both have striking blue eyes and have taken on roles for various blockbuster films. They are both cast in action movies which, to their credit, they have pulled off spectacularly. Though their similarities may not be as defined as other Hollywood stars, the two have received compliments for each other's movies which they took with grace. If we are lucky, we might find these two in a movie together. Now that would be a treat for the fans of these actors!
Lucy Boynton and Lottie Moss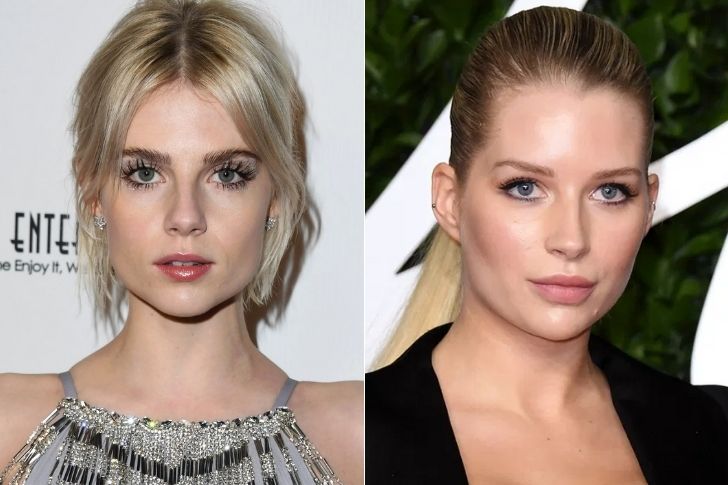 It's hard not to confuse Bohemian Rhapsody star Lucy Boynton with model Lottie Moss these days. They both have the same stature, the same heart-shaped face, and stunning eyes that they could practically be sisters! Boynton was given a role in the TV series Gypsy and a recurring role on the TV show adaptation of Sense & Sensibility. She also landed roles in various films like The Blackcoat's Daughter, Miss Potter, Sing Street, and Bohemian Rhapsody.
Moss, on the other hand, is the half-sister of international model, Kate Moss, and a rising model herself. Where Kate is reserved and quite private of her personal life, Lottie is the exact opposite. She brings her own energy into any photo shoot which is one of her strongest attributes. With both these ladies racking up quite a huge net worth, they can choose where they will put their investment money in the future.
Lea Michele and Idina Menzel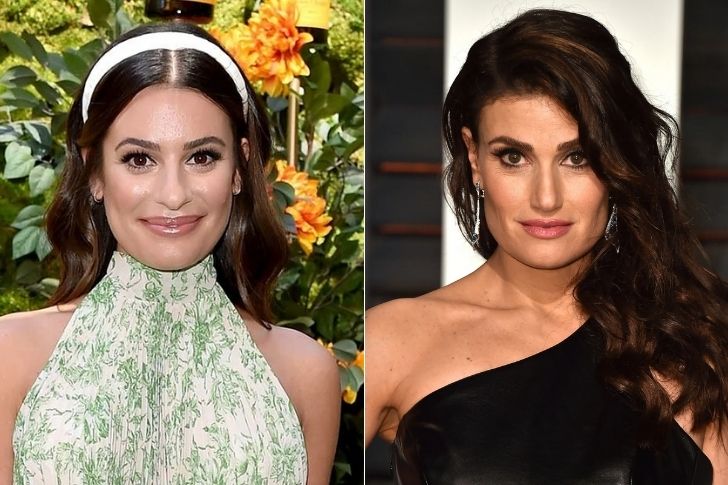 Glee star, Lea Michele can pass off as Frozen alum Idina Menzel's daughter to someone who hasn't met them. The uncanny resemblance was further heightened by the fact that these two stars can belt it out. Aside from the physical resemblance, both these ladies started out in Broadway. Michele began her journey on stage when she was just a child and was casted in stage plays like Les Miserables, Fiddler on the Roof, and Spring Awakening. Menzel, on the other hand, made her professional debut on stage with Rent.
The stars' resemblance was even more apparent when they worked together on Glee, where Menzel portrayed Michele's mother. They sang a duet of Somewhere, which received praise from viewers and critics. There is no doubt that they could be related! Both actresses have earned well thanks their acting and vocal skills so it is not surprising that they will use their money for various investments.
Reese Witherspoon and Brittany Snow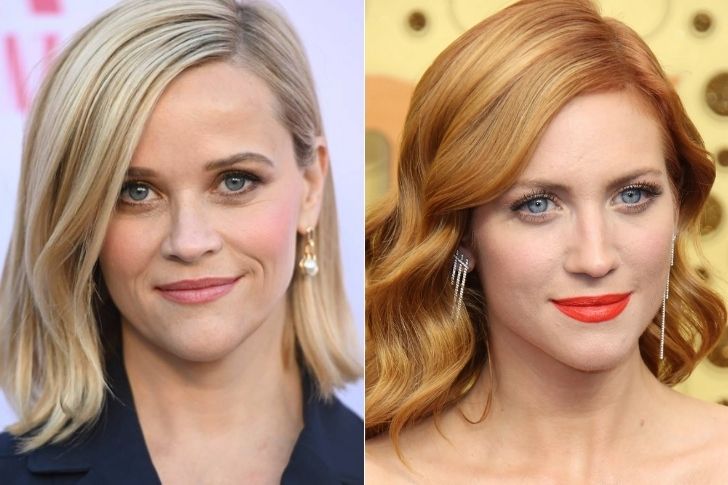 Blonde and blue-eyed beauties Reese Witherspoon and Brittany Snow can be mistaken as siblings or at least related. They have same heart-shaped face with sharp chins, so it is not surprising that many confuse them with one another. We all know that Witherspoon has many films to her name such as The Man in the Moon, Fear, Pleasantville, Cruel Intentions, and Election. She also became more popular with her movie Legally Blonde.
As for Snow, she earned a starring role in American Dreams where she was nominated for the Young Artist Award. Her debut film was opposite Vin Diesel in The Pacifier. She was later cast in Hairspray. Thanks to her amazing vocals, she was also cast in the movie Pitch Perfect. Both actresses have great voices too which, to their credit, they have used well in their movies like Sweet Home Alabama and Pitch Perfect.
Michelle Williams and Carey Mulligan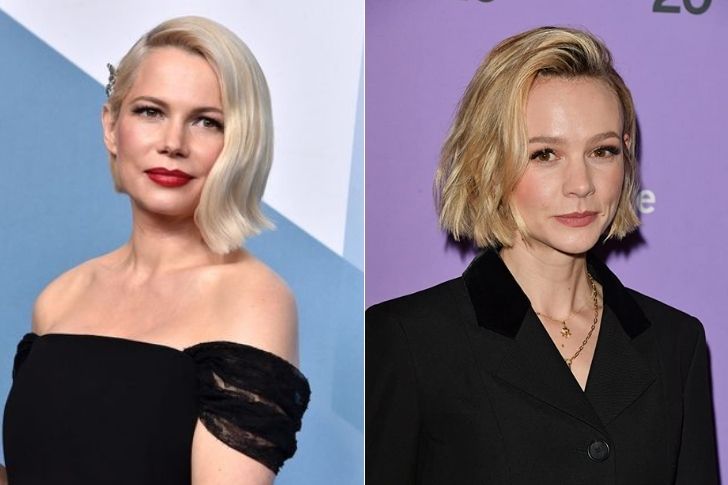 It is not surprising that Michelle Williams and Carey Mulligan can be mistaken for one another. Aside from wearing bobs or even pixie cuts, they have a striking resemblance to each other because of their round faces and dark brown eyes. Mulligan was quite open about the fact that she was often mistaken as Williams to the point that she gave a shout out to the actress during her opening spiel when she hosted Saturday Night Live.
Williams reaped numerous awards for her roles in Brokeback Mountain, All the Money in the World, Manchester by the Sea, and My Week with Marilyn. Mulligan, on the other hand, was cast in the film, The Great Gatsby, Never Let Me Go, and Public Enemies, just to name a few. These actresses probably have a financial advisor who is helping them grow and manage their wealth.
Nikki Reed and Allison Williams

The strong square shaped face and prominent chins of both Nikki Reed and Allison Williams had generated quite a buzz with their fans having a hard time figuring out which is which. This is not surprising especially when they are wearing their hair in loose waves and in the same shade too. These two lovely women are also active in Hollywood with Reed gaining popularity after the film Thirteen while Williams rose to stardom in the HBO series Girls.
After getting her degree in Yale University, Williams made videos on YouTube that were both musical and comedic in nature. Her efforts were noticed by Judd Apatow, who cast her in Girls. Though they are often mistaken for one another, these two actresses stand out from one another based on their career in Hollywood. For sure, we will be seeing more of the two on TV or on film. Either way, their fans will have a field day when they do get to star opposite of one another.
Emma Corrin & Jodie Foster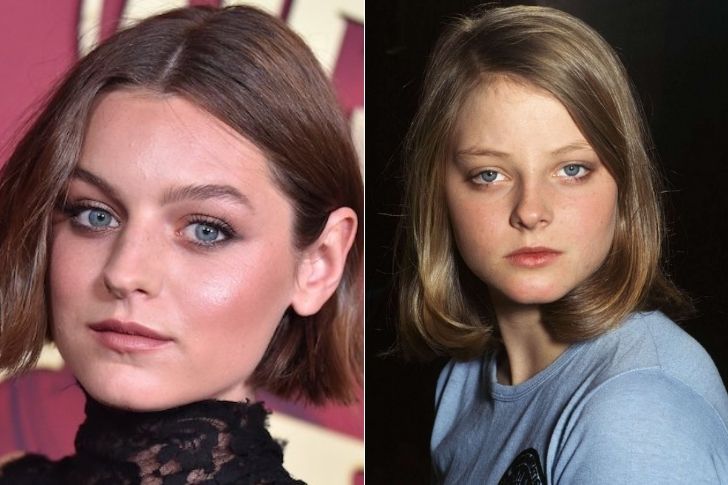 Emma Corrin received rave reviews for her performance as Princess Diana in the TV series, The Crown, especially after the episode of Diana's wedding. However, there is another reason why she is gaining attention lately— and that is for bearing a striking resemblance to a young Jodie Foster. Based on the photo comparisons that you can find online, we are sure that you will agree. The young actress stated that her mother wasn't often told that she looked like Princess Diana but was surprised when she was compared to Jodie Foster.
Taking a closer look at a young Jodie Foster and the current features of Emma Corrin, you will see that they do look the same. From the way they wear their hair, the classic facial structure, you might think that they are twins even. For sure, Corrin's career is just getting started, while Foster has already made a name for herself. Without a doubt, with the help of reasonable investment planning, Corrin's net worth will climb just like Foster's.
Kiernan Shipka & McKenna Grace

There is no denying that child star McKenna Grace can be seen everywhere. You might not have given it much thought, but she has already played the younger version of Kiernan Shipka in the reboot of Sabrina, the Teenage Witch. As a matter of fact, fans of Shipka were quick to point out the uncanny resemblance, which is why it is not surprising that Grace landed the role. Aside from that, the young actress has also played the role of young Brie Larson in the film Captain Marvel, which also suited her.
Even McKenna Grace herself remarked on her resemblance to Kiernan Shipka— and her fans are posting comparisons of the young actress to other stars. It seems that Grace is one of those child celebrities that we should be paying attention to since she already has an impressive resume to boot. With the right guidance from her parents and a financial adviser, Grace can invest her money wisely for her future.
Rachel Bilson & Kaia Gerber

Kaia Gerber has gotten the looks of her mother, Cindy Crawford, but she also holds a resemblance to Hollywood star Rachel Bilson. Bilson had landed roles in TV shows such as Buffy the Vampire Slayer and 8 Simple Rules for Dating My Teenage Daughter, but it was in The O.C. where she broke through Hollywood. Her performance in the TV show also led to her being cast in The Last Kiss and Jumper. The brunette also became a judge in Project Runway before landing a role in Life Happens.
Gerber, on the other hand, has followed her mother's footsteps and became a model herself. She is currently juggling her studies with her modeling, and though she admitted struggling with her tasks, the young beauty is pulling it off amazingly well. As for bearing a resemblance to the Hollywood A-lister, Gerber could actually work on a film alongside Bilson, where they're cast as relatives. If you ask us, that would seem like a wise movie investment for producers!
Rob Lowe & Ian Somerhalder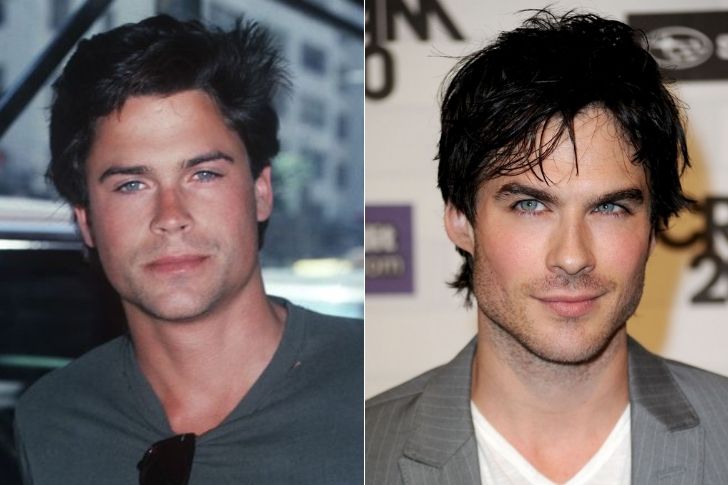 The smoldering eyes and tousled hair look is best pulled off by Rob Lowe and Ian Somerhalder, which is why it is not surprising when they are mistaken for one another. Somerhalder's wife, Nikki Reed, got to see the resemblance when Lowe approached her, held her face, and told her that she would be looking at the same face in 15 years. This was done in jest as Lowe knows that he and Reed's husband are often likened to one another.
Somerhalder has taken it in stride, and so did his fans since Lowe still looks fantastic for his age. Suppose Somerhalder does look like him in 15 years, then he doesn't have to worry about anything at all! The Vampire Diaries star was quite candid about his wife's close encounter with Lowe during an interview, and he found it sweet of the Parks and Recreation alum to do so. With both stars earning well, they don't have to apply for personal loans any time soon.
Stephen Colbert & Bob Saget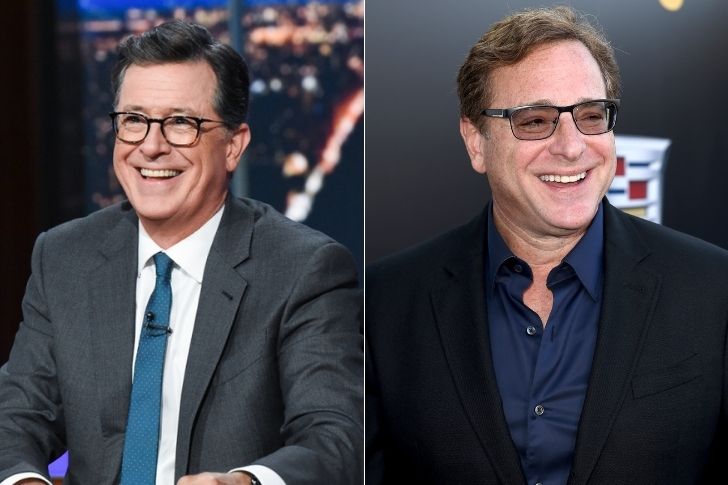 When you put Bob Saget and Stephen Colbert side by side, you would think that they were twins. From the cut of their hair to their spectacles, all the way to their smile, it's not that easy telling the two apart. The Full House alum can be considered as The Late Show host's doppelganger! Aside from their looks, the two stars have other similarities as well, such as that big smile and bespectacled look.
Additionally, both are stars in their own TV show, and they are earning quite well as well. Colbert has a net worth of $75 million, while Saget has clocked in a net worth of $50 million. Both know how to make their audience laugh, with Saget starting out as a comedian but later took on more family-friendly roles such as in Full House. To their credit, both stars are pretty good at their own fields.
Helen Mirren & Jennifer Lawrence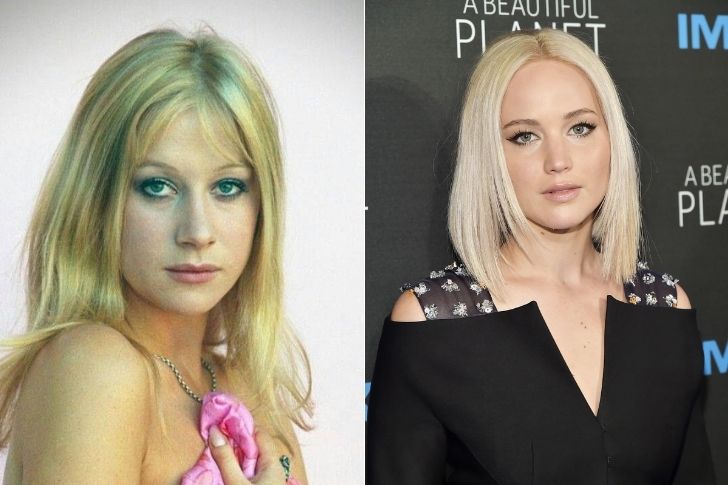 Hollywood A-listers Helen Mirren and Jennifer Lawrence are cut from the same mold. Not only do they have a striking resemblance to one another, but they are also quite versatile actresses. Mirren started out in the theater, and when she was 20 years old, she landed the role of Cleopatra for the stage production of Anthony & Cleopatra. The talented thespian then transitioned into acting on film with quite a long list of projects to her name.
Lawrence, on the other hand, rose to stardom when she was cast as the lead in The Hunger Games franchise. She went on to star in movies like Silver Linings Playbook, X-Men: First Class, Joy, and Red Sparrow, just to name a few. Both these actresses have built up quite a considerable net worth which is not surprising given their acting skills. To their credit, they can easily slip into playing roles like mother and daughter tandem and pull it off thanks to their uncanny resemblance to one another.
Selma Blair & Kris Jenner

No one has really thought of Selma Blair resembling reality TV star Kris Jenner until the former played the role of the Kardashian-Jenner matriarch in The People vs. OJ Simpson: American Crime Story. This is because Jenner's late husband, Robert Kardashian, was part of the legal team representing OJ Simpson. Their fans were very much in awe as Blair stepped into the role of Jenner, and Kris was quite supportive of the actress.
As a matter of fact, Jenner sent the actress a bouquet of flowers after learning that Blair was diagnosed with multiple sclerosis. The two had maintained a strong bond well after the Netflix mini-series aired, with Blair donning a wig and makeup as a throwback tribute to Kris Jenner one time. Of course, the reality star and Kardashian momager gushed about the gesture! If you're wondering how these fated friends are faring, both stars have earned well and are now reaping the fruits of their career investments.
Lily Collins & Jennifer Connelly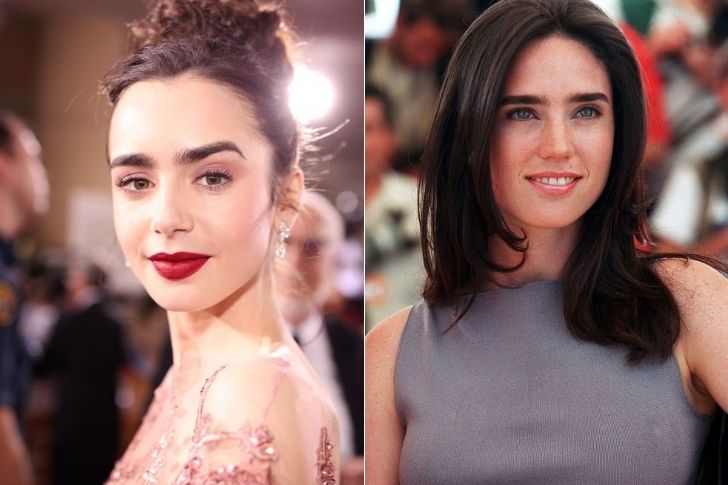 Lily Collins and Jennifer Connelly look like carbon copies of each other. They are both successful and famous actresses in Hollywood who receive a lot of recognition and credits for their outstanding performances. Almost every blog and article in town agrees that they look so much alike.
This doppelganger gossip became even more popular when the two played mother and daughter in a movie. They may be 18 years apart, but when it comes to their looks, they are not far apart at all. In fact, they are only the opposite! All of their facial accents tell a story— from their smile to the curves of their eyes. It almost tells us that maybe they could be a real mother-and-daughter tandem in another life. Both Collins and Connelly also delivered iconic roles over the years, and Collins' stardom is surely on the rise—especially since she is the new princess of Netflix, with her new TV show Emily in Paris.
Dax Shepard & Zach Braff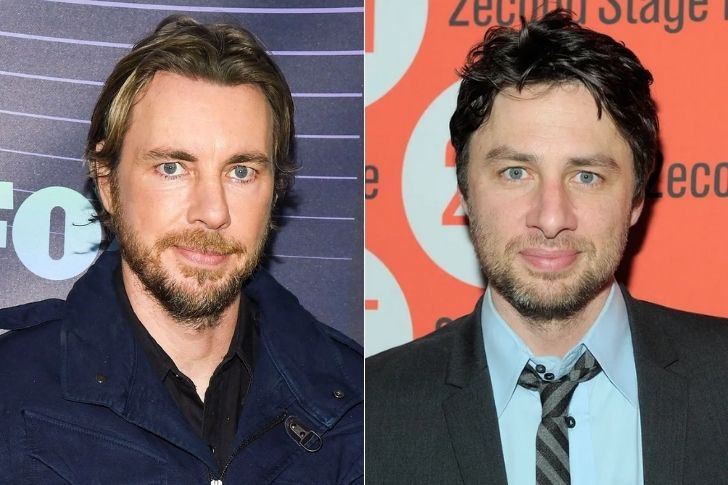 Dax Shepard and Zach Braff are two famous people in the entertainment business who look exactly the same. One is a great actor, and the other one focuses on his investments in directing and producing. People do nothing but ask if they are twins or just simply related. They are not, but they look like each other more than they do with their own brothers. A lot of sources also say that they are almost identical.
Braff is the talented and handsome director/producer who fell in love with one of Hollywood's brightest young stars of today – Florence Pugh. There have been some negative comments about their relationship since Braff is a lot older than Pugh, but they are still going strong throughout the years. Pugh is a big part of this whole lookalike debacle since she was actually the first one who teased her boyfriend. The Midsommar lead said that she might not notice down the road that she is already going out with Shepard since he looks so much like Braff.
Edie Falco & Ellen DeGeneres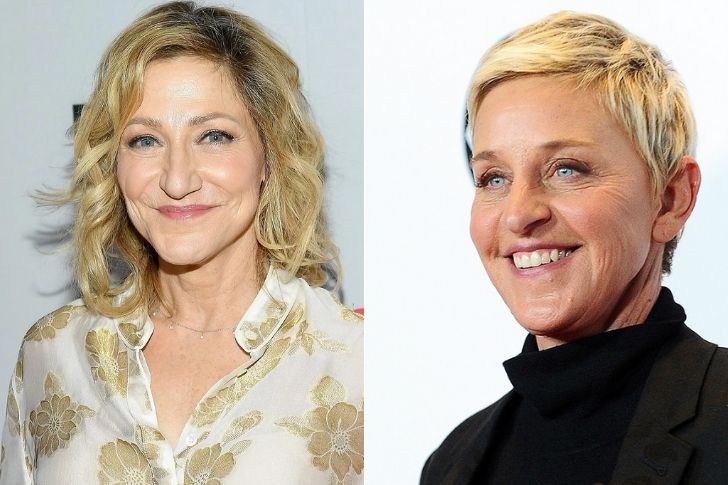 Edie Falco and Ellen DeGeneres can fool anyone that they are related. They can say that they're identical twins, and people would surely believe it. They could even pass for the same person! These celebrities are two of the biggest names in Hollywood, and they have received a lot of credits and recognition throughout their career. Edie and Ellen make always make it in celebrity lookalike listicles, so why should they not be included here as well?
Their current hairstyle makes them even more identical-looking. They both carry and represent sophistication for females with short haircuts or pixies. Their eyes and nose are very much the same. Not to mention that they also share the same smile! This is perhaps because they have the same facial expression for almost every emotion. It's hard to think of Ellen as having someone who looks so much like her since we see her all the time on our television screens. Well, now we guess it won't be a problem anymore when the talk show host would need a one-day substitute for her show!
Angelina Jolie & Megan Fox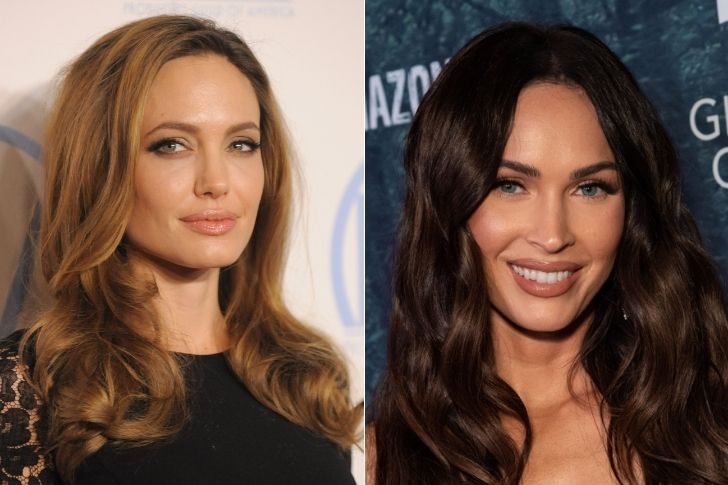 Angelina Jolie and Megan Fox are literally the two most famous women in the world, credits to their exceptional beauty and appeal. People compare them all the time— not just with their looks but also their accomplishments, and who among them had more male admirers. Looking at these two, they're like mirrors of each other. From the luscious lips to the signature brows, the hair, the tattoos, the way they speak, and their sense of style— it seems like Megan and Angie are one and the same!
There was a time in the '90s when all that the world could talk about was Angelina Jolie. The general public became obsessed with her lips and chest, and so women tried to copy those aspects of the actress. She is a living legend, as some people would say. Come the late 2000s, Megan Fox took the limelight. She was hailed as the sexiest and the most beautiful woman alive all in the same year, which rarely ever happens in Hollywood. Now that both of their peak decades have passed, these Hollywood goddesses continue to amaze us with their eternal youthful glow and allure.
America Ferrera & Jordin Sparks

Easily, one of the most famous celebrity twins is America Ferrera and Jordin Sparks. They're not technically twins by blood, but we guess people believed this one too many times. One is an actress, and the other one is a successful singer. The way they look the same is certainly uncanny. Ferrera and Sparks have facial features that match quite strongly. They represent the Hispanic Latina community, and they both have strong body stature, too. These celebs received a lot of attention and credits for the way they embraced their body types. If you look closely, you'll see.
Sparks is one of the most popular and successful alumni of the hit talent search American Idol. To add to her long list of accolades, she also made history by being the youngest winner ever in the same show. On the other hand, we see a lot of Ferrera in films like The Sisterhood of the Traveling Pants and on TV shows too, like Ugly Betty and more.
Lili Reinhart & Sarah Gadon

Lili Reinhart has an uncanny similarity with the fellow actress Sarah Gadon and the Riverdale star herself hardly believes it. While exploring her Instagram, the younger actress was surprised to see herself in a movie scene with the Game of Thrones actor Kit Harington—only that it wasn't really her.
Lili knew she didn't do that movie, The Death and Life of John F. Donovan, nor worked with Harington before, so who's that woman she thought was her? It's none other than Sarah. At the first look, you would really believe it was Lili on the scene. They have the same hairstyle, color, face shape, facial expression, and everything in between. The degree of their likeness looks very surreal. Fans can easily mistake the two for each other. They can even pass as identical twins or Sarah as Lili's older sister.
Josh Duhamel & Johnny Knoxville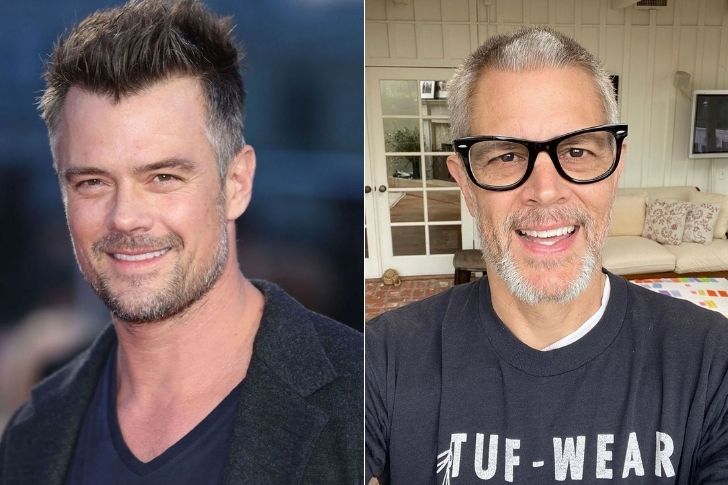 We must give credits to Josh Duhamel and Johnny Knoxville for letting us witness a one-of-a-kind celebrity match-up— something that we've never seen before.
Both Josh and Johnny have very handsome faces, which could make a girl fall in love in just one glance. Well, for one, we know that superstar Fergie did in real life. She and Josh were one of the most celebrated couples when they were still together. Josh is a romantic movie kind of guy, and he also does drama, action, and more serious roles. On the other hand, Johnny is leaned toward providing us with laughter using his natural comedic abilities. That doesn't mean that he is less charming because he is just as charming as or probably even more than the heartthrob Josh. You know what they say; the world loves a man with a huge sense of humor. Simply put, Johnny is the goofy and nerdy version of the super hunk Josh Duhamel. They still pretty much the same, though.
Dave Coulier & Jeff Daniels

Dave Coulier and Jeff Daniels are among the most uncanny celebrity doppelgangers we've ever seen with our very own eyes. People around the world have made investments in these two, with their time, effort, energy, and research on why Coulier and Daniels look so much alike.
The latter is a serious actor and prestigious filmmaker, while the former started off as a standup comedian. Nevertheless, we see a massive similarity between these two despite the stark difference in disposition. One can always be found joking, and the other one is simply crossing his legs seriously in the corner of the room. That is not Jeff's entire personality, though. He might be accomplished and high in profile, but he knows a good laugh too. They are both in their golden years, with just five years apart. These two actors constantly cross paths during red carpet events, and people would sometimes be fooled that what they're seeing is a camera trick!
Renee Zellweger & Joey Lauren Adams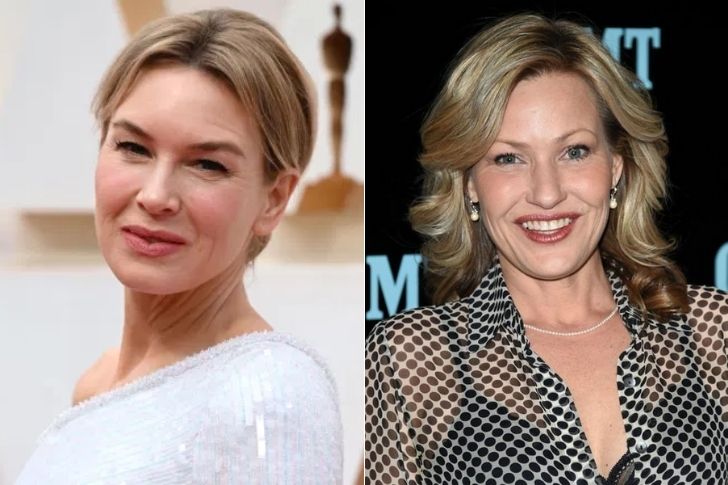 Renee Zellweger and Joey Lauren Adams are very similar when it comes to facial and neck features, not to mention their complexion. There was even a time when they had the same haircut, which made it more difficult for us to separate their identities. Adams shares the same lips with Zellwegger, especially when they both smile or laugh really hard. The stars are almost the same in everything— even their taste in clothes. Zellweger and Adams are two of the few celebrities who are actually proud that they look like each other. They also give credit to each other, saying that they are very grateful for their celebrity doppelgangers.
Award-winning actress Zellwegger is known to be one of the most beautiful women in the world. She is also a shapeshifter. The talented actress will do anything for a role— that's how dedicated she is, and we think you know where we're going with this. Yep, she gained weight for a part! While we don't think Adams is a method actress herself, we're sure that she's just as persevering as her lookalike!
Kenny G & Weird Al

It's not just the hair. It's the eyes, the smile, and almost everything that makes Kenny G and Weird Al look exactly the same. These two both have deep love, connection, and investments in music.
The legendary Kenny G is a man who needs no further introduction, but we will still introduce him for you. He is a smooth jazz saxophonist and is one of the bestselling artists of all time. The musician has a total global sales worth more than $75 million. At the age of 64, he maintains his grace, passion for music, and his dashing charm. On the other hand, Weird Al is three years younger than his celebrity doppelganger. He is also a musician, a record producer, and an actor. The artist was made even more famous with his humorous songs that make light of pop culture. It often parodies specific songs by contemporary musical acts.
Krysten Ritter & Anne Hathaway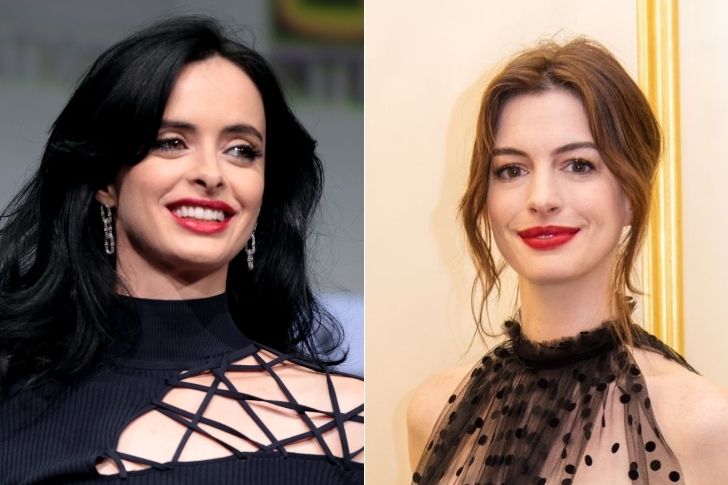 Krysten Ritter and Anne Hathaway are two of the prettiest faces we see on TV today. Ritter is this fresh-faced girl-next-door TV actress who can do romance and action. Hathaway is not so different, except that she is an award-winning actress and had more years in the showbiz industry. Anyway, we are not here to compare their accolades but their looks.
These stunning women should give each other credits more often because they both are so lucky to look like one another. Most times, these two ignore the fact that people call them twins who have been separated by birth. We guess each celebrity handle news of having their very own doppelgangers differently. After all, these similarities did not come by choice. On top of that, their replicas are inside the same industry they are in. People tend to start these narratives, and so they have to go along with them. If you stare at Hathaway and Ritter's nose, neck, complexion, and lips, you would hardly even notice the slightest difference!
Kofi Anan & Morgan Freeman

When even their friends call them by a different name, that's when we know that Kofi Anan and Morgan Freeman look remarkably the same. Both Anan and Freeman are honorable men in Hollywood. They have received several accolades and credits because of their contributions to the entertainment industry.
These two gentlemen are legends. They both have taken part in projects which became cult classics. People always say that if we look at Anan's face for minutes and minutes on end, then we suddenly shift towards Morgan's face; it would be like our minds are playing tricks on us. Like an optical illusion or a magic trick, traces of the other actor remains in the corner of your eye even after you've stared away from their image. The star's hair, round-shaped faces, skin color all add to the factors why they are one of Hollywood's identical celebrities.
Brian Baumgartner & Greg Isdaner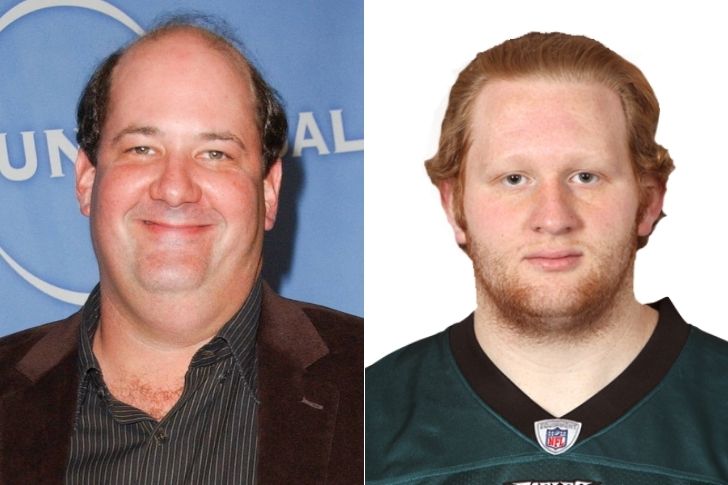 Brian Baumgartner is the spitting image of Greg Isdaner. If we haven't known any better, we would have thought that these two are twins or at least just brothers. Brian and Greg should be given more credits and attention by fans when it comes to celebrity comparisons and lookalikes. It seems like they always come in last in these lists.
We often get a glimpse of Brian online or on our TV screens since he is a part of one of the world's most favorite shows – The Office. He is not just a talented actor; he is a director as well who started off his career mainly as a television actor. Greg is a former professional American football guard signed by the Dallas Cowboys in 2009. Clearly, these two have different fields and professions. They don't share the same career, but in a way, they are public figures, so these two can't hide from the cameras and all the comparisons. The celebs probably never even crossed paths, but their names will always stay connected.
Elias Koteas & Christopher Meloni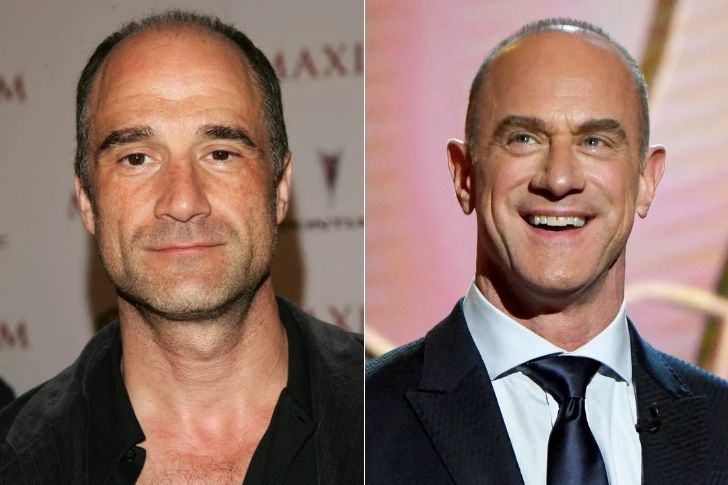 For a long time, some people thought that Elias Koteas and Christopher Meloni were the same people. It turns out they are just two very identical actors. There are even fans who thought Koteas decided to go by a different name— or maybe it was Meloni who did, but they guessed it wrong.
Both Koteas and Meloni are very talented individuals. They shared the same passion once, too, when they had investments in production. Koteas is an award-winning Canadian American actor who does films both in the United States and in Canada. He is best known for his supporting roles, and he is rather very good at it. Koteas had over 45 projects in Hollywood ever since the star of his career. As for Meloni, he has also participated in over 40 projects in Hollywood, but he is best known for his role in the hit crime drama series Law & Order. Both have masculine solid looks and foxy eyes, which make it harder for us to tell them apart.
Pee Wee Herman & Alan Cumming

Some actors are simply referred to as people who were separated at birth. This is the case for Pee Wee Herman and Alan Cumming. Credits to one of their fans' posts on social media, these two started to notice how much they really look like each other.
More commonly known as Pee Wee Herman because of an iconic role, Paul Reubens is an American actor, comedian, writer, producer, and children's entertainer. He is 68 years old, but truth be told, he doesn't even look like he is in his 40s. He has a perfect complexion and an incredibly neat hairstyle. The star's face is very pleasing, especially to children indeed. His celebrity twin, Alan Cumming OBE FRSE, possesses precisely the same youthful glow. He is also very neat, which sometimes makes us wonder how he maintains all the cleanliness in his face and suits. The Scottish-American actor, singer, writer, filmmaker, and activist has appeared in many films and TV shows over the years. These two might be a decade apart, but their looks aren't even a percentage apart.
Peter Jackson & Jason Segel

If you happen to think that Peter Jackson and Jason Segel look stunning alike, don't worry, you're not the only one. These two have uncanny similarities that you can easily mistake them for each other to a certain degree. They have the same facial features, from the shape of their faces to their lips. The only difference is their facial hair and the color of their eyes.
It's pretty hard not to double look if you see these two together. They can even pass as twins. Peter and Jason are both parts of the entertainment industry, though the latter primarily works in front of the camera. Jason is also a screenwriter, singer-songwriter, author, and producer. Peter, on the other hand, is the famed director behind most of the successful movies. He's responsible for the success of The Lord of the Rings: Trilogy, King Kong, and more.
Brad Pitt & Robert Redford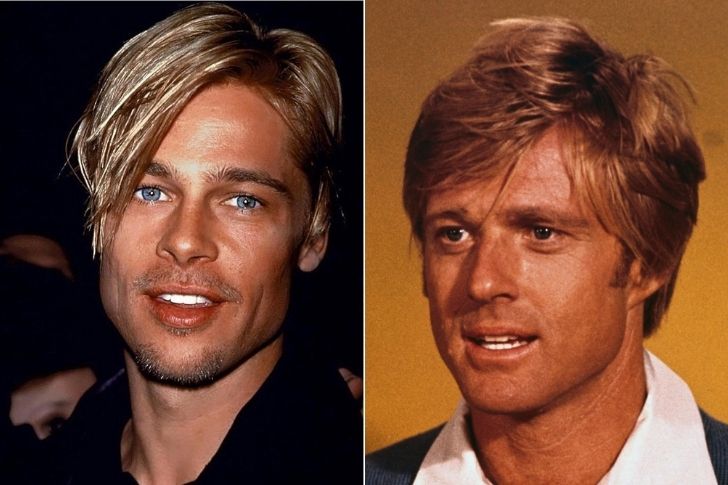 Don't you think Brad Pitt is the younger version of Robert Redford? He is, actually, and you can easily see that with their exact likeness. They have the same blonde hair, pointed nose, thin lips, and overall mesmerizing man features. They're like a father-and-son duo when you see them together. Some who noticed the similarities might have told Brad about it and said it's flattering, knowing Robert is one of the most iconic actors in the industry. He admitted, however, that he didn't think about it that much.
Did you know that these two actors had credits in the 2001 action thriller film Spy Game? If you're thinking they played as relatives here, nope; they play as an asset and a mid-level case officer. This, sadly, the only movie that they did together, though Robert directed one of Brad's films, A River Runs Through It.
Helen Hunt & Leelee Sobieski

Remember the '90s star Leelee Sobieski? She's dubbed as the baby Helen Hunt for their incredible likeness. She's like the young version of the legendary actress for having the same features. They even have the same smile that you can easily mistake Leelee as Helen's daughter. Mind you, they're not related to each other. The retired actress just counts in as the 57-year-old star's doppelganger, and it's unbelievably true.
Helen continuously dominates the big and small screens until today. She has three acting credits coming up, such as Blindspotting, Delfino's Journey, and A Patriot. On the other hand, Leelee has been out of the spotlight as she now primarily focuses on looking after her kids. She also gets tired of being touchy with other people in the movies, so she prefers to be out of it. Leelee was last seen on the TV series NYC 22 in 2012 and the movie Stalker in 2016.
Rihanna & Priscila Beatrice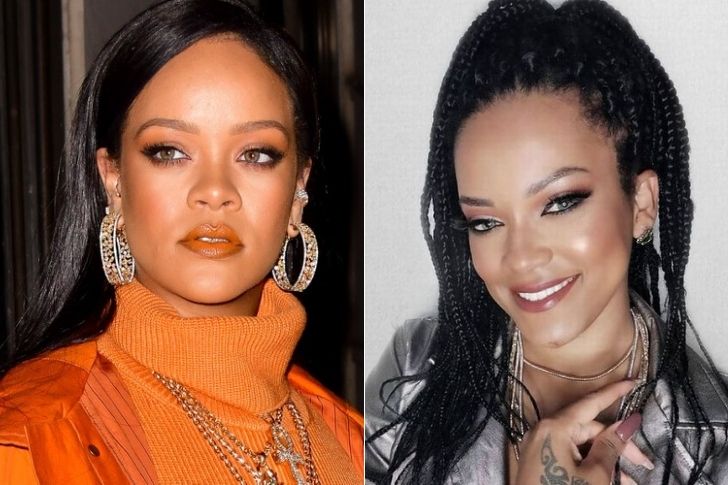 You will probably think there's something wrong in your eyes, and you need to use that medical insurance when you see Rihanna and Priscila Beatrice's side-by-side photo. The 28-year-old celebrity-lookalike looks every inch like RiRi, mainly when she copies her style and makeup. She can even pretend that she's Rihanna, and no one will doubt it—unless she has to sing and perform like her, we bet.
After Priscila shared a snap of herself recreating Rihanna's appearance on TikTok, she got massive attention, including that of the Diamond hitmaker. When the Shade Room posted Priscila's photo on Instagram, Rihanna left a comment, trolling herself, asking her about album number nine, and calling her "sis." Priscila celebrated the post that made her shine for a moment and even getting noticed by Rihanna. It was a dream come true for her, making her emotional and thankful.
You've Reached The End