Celebrity Couples That Will Stun You With Their Awe-Inspiring Wedding Dresses
Fans have shipped a lot of celebrity couples throughout the years. They've waited for celebrity relationships, engagements, and weddings to come and go.
Besides walking down the aisle and exchanging wedding vows, one of the most awaited scenes everyone wants to see is the couple's wedding dress. Everybody is always looking forward to seeing the bride's bridal gown, from the longest veil to the most shining embroideries; it usually leaves a dramatic statement.
On the other hand, the groom's suit may look the same, but it is always different, depending on who is sporting it. Who doesn't think George Clooney look so dapper when he tied the knot with the famed lawyer Amal Alamuddin? Of course, everyone does! His wife also appears equally iconic.
Several celebrities had made great impressions when they donned their wedding dresses—and not just the gowns, though. Fans also want to know who the most celebrated designers behind their stunning dresses are.
If you want to know more, check out these celebrity couples' most awe-inspiring dresses that will surely stun you.
Adam Levine and Behati Prinsloo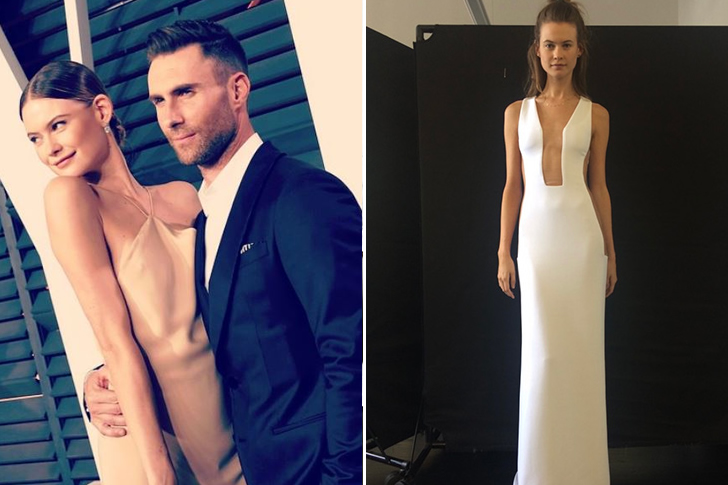 Both Adam Levine and Behati Prinsloo know how to dress in style, as seen in numerous photos of them together in public. After all, Levine is Maroon 5's frontman, while Prinsloo is a model associated with Victoria's Secret. When the couple tied the knot in a secret ceremony in Los Cabos, Mexico, it was star-studded, with many A-list celebrities among the 275 guests invited.
At the wedding, the center of attention was the bride-to-be's dress. Custom-made by fashion brand Marchesa, her dress was heavily inspired by a fall runway dress that Marchesa made in 2011. Some changes were made, including opting for a sleeker silhouette and using thin spaghetti straps instead of embroidered bold shoulders. She gave credit to designer Alexander Wang, who designed and made her dress. As for Levine, not much is known about his attire. However, he did wear a summer polo shirt at the reception.
Amy Schumer and Chris Fischer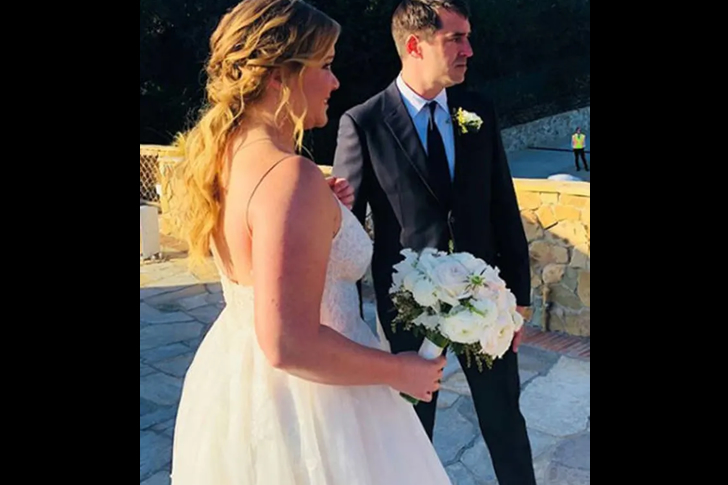 Shortly after making their relationship official, it definitely came as a shock to many fans when stand-up comedian Amy Schumer tied the knot with chef Chris Fischer in a Malibu seaside wedding back in 2018. Like their relationship, their union was also kept private, but it didn't stop Schumer from posting photos of their big day on Instagram. The wedding was star-studded; it had notable guests such as Jennifer Lawrence, Chelsea Handler, and Larry David. In contrast to the high-profile guests and the exclusive setting for their wedding, the couple dressed quite modestly.
Fischer's attire was a simple suit and tie. Meanwhile, Schumer's attire is a simple and traditional wedding dress from fashion designer Monique Lhuillier. The gown can be bought on Nordstrom via custom order. In line with the simplicity, Schumer kept her accessories simple, only wearing her wedding ring. Although their investment towards their wedding was somewhat minimal, the then newly-wed couple were more than happy with how it turned out.
Beyoncé and Jay-Z

One of the most prominent super couples, Beyoncé and Jay-Z has been the center of media attention for years. In no small part due to this, they kept their tying of the knot on April 4, 2008, very private. This is not unusual for the two, as many of their fans did not even know that they were engaged and obtained a marriage license until much later. It seemed that they invested heavily in ensuring that the build-up to their wedding day was kept highly confidential.
What is known about their wedding is that there were several A-list personalities among the guests, such as Kelly Rowland, Gwyneth Paltrow, and Chris Martin, to name a few. The couple's wedding wardrobe was quite simple. For Jay-Z, he wore a dinner suit with a white rose inserted on his chest pocket. Meanwhile, Beyoncé wore a strapless white mermaid gown.
Blake Lively and Ryan Reynolds

While Blake Lively and Ryan Reynolds are well-known to the public, they are notorious for keeping their personal lives private. Their big day was no exception, with the couple tying the knot in 2012 at Boone Hall Plantation in South Carolina. The location for their big day caused a media firestorm due to the venue's dark past, to which Reynolds responded by subsequently apologizing and redoing their vows at their home in Upper New York.
Their wedding in South Carolina was done in secret and with the help of Martha Stewart. While Reynold's wardrobe is not known, Lively's was featured on Stewart's website. Her wedding dress was a silk tulle gown made by Marchesa, which featured a fitted bodice, illusion crystal beading on the shoulders and rose-gold embroidery. Outside of Stewart's website, photos of the couple's big day were scrubbed off the net as insurance so that the newly-wed couple may not be associated with the venue and its original usage.
Brad Pitt and Jennifer Aniston

Called the wedding of the millennium at the time, Brad Pitt and Jennifer Aniston's wedding on July 29, 2000, was extensively followed by both the media and the couple's fans. The super couple's ceremony was held in Malibu, in front of 200 of their closest friends and family. The couple went all out, with their venue featured a 50,000 flower garden, a 40-person gospel choir, expensive lobster and champagne, and a 13-minute fireworks display. All in all, the wedding cost around $1 million. This put it among the most expensive weddings of all time. For common people, it's going to need a lot of loans to afford that kind of wedding.
As for the couple's fashion ensemble, their wardrobe was quite simple yet elegant. Pitt wore a suit and tie with a brooch fastened to his left chest. While Aniston wore a white low-back gown decorated with glass beads and a simple veil. Sadly, the couple broke up by 2005 so it's such a shame to see all this glitz and glamor go down the drain.
Catherine Zeta-Jones and Michael Douglas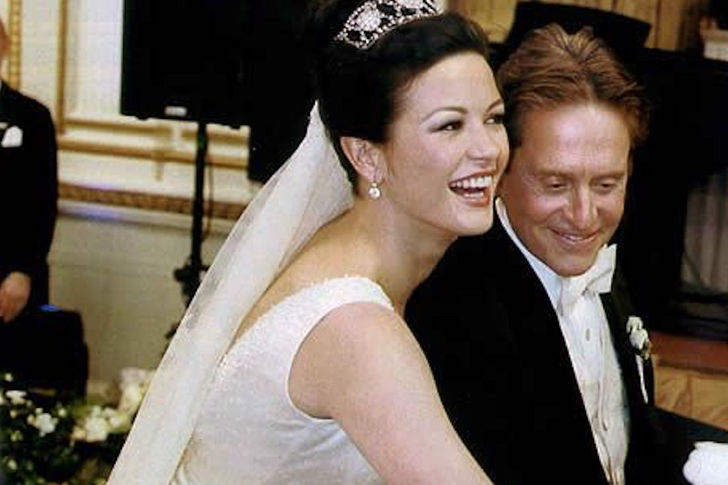 Catherine Zeta-Jones and Michael Douglas tied the knot two decades ago in 2000. At the time, it was considered to be among the most expensive weddings in Hollywood, costing around $1.5 million. It was held at New York's Plaza Hotel and had 300 guests in attendance. Aside from its price tag, the wedding became known for its highly exclusive photographs. It was released via an exclusive agreement with OK! magazine for $1.5 million. Unsurprisingly, when Hello! Magazine took some unauthorized pictures, the couple and their lawyers sued them.
The couple's fashion ensemble during their big day was quite elegant and sleek. Douglas wore a dinner suit with a white ribbon tie and a white flower fastened into his chest. Meanwhile, Zeta-Jones wore a custom, hand-beaded gown made by Christian Lacroix. It was reported that the gown cost around $140,000. This made the gown one of the most expensive celebrity gowns ever.
Chip and Joanna Gaines

Known for their show Fixer Upper, Chip and Joanna Gaines have been happily married since 2003. Before their marriage in 2003, Chip proposed to Joanna in a shopping center in Archer City, Texas back in 2002. The year after, they tied the knot the next year at a historic venue- the Earle-Harrison House, in Waco, Texas. Later on in their marriage, Chip reportedly suggested upgrading Joanna's ring, which she promptly declined.
On their big day, the couple's fashion ensemble was quite simple. Chip wore a black suit and tie with a flower brooch attached to his left collar. Joanna, meanwhile, wore a white strapless gown and a simple veil. Her accessories included a tiara, simple earrings, and a simple necklace. After their wedding, they soon renovated their first home, doing everything from roof repair to replacing the house's flooring.
David and Victoria Beckham

One of the most high-profile couples in Britain, David and Victoria Beckham's wedding became known for its exclusivity and the surprise twist the couple made after the ceremony. They tied the knot at Luttrellstown Castle just outside of Dublin, Ireland. The couple made their wedding intimate, with only 29 of their closest friends and family have witnessed their exchange of vows. Their reception, however, was more numerous, with 230 guests in attendance. Notable guests included Victoria's fellow Spice Girls.
On their big day, the fashion ensemble was varied. At their wedding ceremony, the couple wore all-white attires. David wore an all-white suit and tie with an accessory brooch. Victoria wore a strapless silk pleated ball gown designed by Vera Wang and topped off with an 18K-gold tiara. The couples then changed attires to the now-iconic purple wedding outfits for the reception, which were also donned with purple roses.
David Foster and Katharine McPhee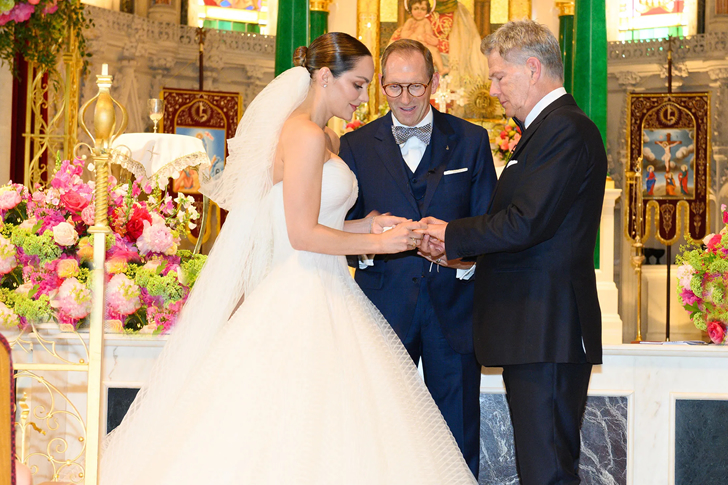 While many fans were certainly intrigued by their huge age gap, David Foster and Katharine McPhee have been happily married since 2019. The two first met years back in American Idol but would not be romantically involved until 2017. They tied the knot at the Church of St. Yeghiche in London in the attendance of 150 guests. Their reception was organized with the help of the event organizer Banana Split. The couple invested heavily in planning and executing the wedding, which clearly payed off.
The outfits the couple wore on their big day were nothing short of elegant. Foster wore a tuxedo by Stefano Ricci with a black ribbon tie. Meanwhile, McPhee's dress was just as simple as Foster's yet elegant. Her dress was a custom-made strapless gown by Zac Posen. It featured a sweetheart neckline, multiple layers of white striped tulle, and a silky veil. In the reception, McPhee changed her attire to an off-the-shoulder dress.
Dax Shepard and Kristen Bell

A break from the highly expensive and elaborate weddings in Hollywood, the wedding of Dax Shepard and Kristen Bell was unique among such weddings as it was quite low-budget. They purposefully delayed the tying of the knot until same-sex marriage was legalized in California. After it was legalized in June 2013, Bell proposed to Shepard. In October of that year, they tied the knot in a civil ceremony at a courthouse in Beverly Hills. As a replacement for the wedding ring, Shepard had a wedding tattoo.
As the wedding was quite low-key and low-budget, the couple's wardrobe was black-themed and simple. Shepard wore a casual suit with a black ribbon tie and sneakers as footwear. Meanwhile, Bell wore a black shirt, pants, and sandals with a large necklace as an accessory. Due to their rather low-budget wedding, they have forgotten the actual date of their wedding. Regardless, their cheap investment towards their wedding led to nearly nine years of being married.
Denzel and Pauletta Washington

Among the longest-lasting marriages in Hollywood, Denzel and Pauletta Washington have been together for nearly four decades. Both met in 1977 during Denzel's first acting debut in the TV film Wilma. A bit over half a decade later, they tied the knot in 1983 and have remained married since. Together, they have four children: John David, Katia, and twins Olivia and Malcolm. Their children have gone on to become successful, graduating with degrees in fields like film studies and fine arts. However, further details of the couple's wedding remain unknown, as both have continuously kept their personal lives private.
What is known is that they renewed their vows in 1995. The couple went to South Africa to renew their vows in a ceremony officiated by then-Archbishop Desmond Tutu. While more details are not known about their renewal of their vows, what can be said is that there were many people during the reception, since they ran out of food from the catering service at the time.
Elizabeth Banks and Max Handelman

Elizabeth Banks and Max Handelman have been together for nearly two decades now. They first met during college at the University of Pennsylvania in 1992 and became romantically involved shortly thereafter. In 2002, Handelman proposed unexpectedly to Banks. They tied the knot in 2003 in a Jewish ceremony at the Greystone Mansion in Beverly Hills. The ceremony was attended by the couple's closest friends and family. After the wedding, they held a laid-back reception at the W Hotel in Westwood, Beverly Hills.
During their big day, the fashion ensemble of Banks and Handelman was quite stunning and beautiful. Handelman wore a black suit with a white inner shirt and tie, complete with a flower pinned on his left lapel. Meanwhile, Banks' dress was an off-white silk-chiffon gown credited to Christian Dior and a silky veil that was handcrafted by her mother. The chuppah at the ceremony was also handmade by Banks' mother.
Ellen DeGeneres and Portia De Rossi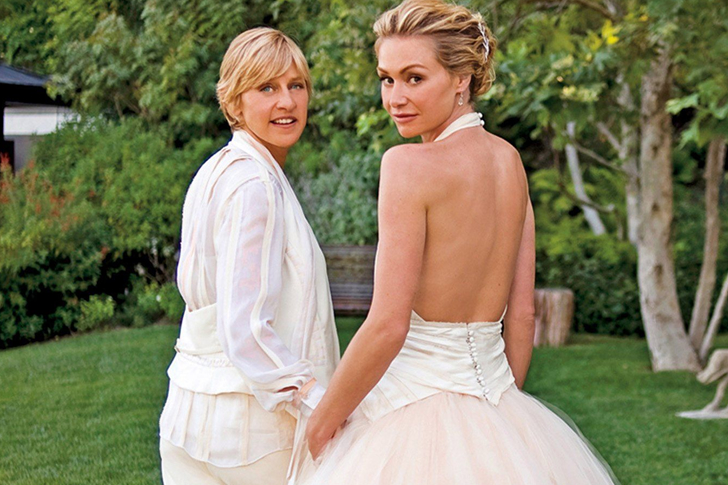 Ellen DeGeneres has been an icon in Hollywood for years. She has been together with Portia de Rossi since 2008. The couple first met in late 2004 and dated shortly afterward. Four years later, in August 2008, they tied the knot in an intimate ceremony at their home in Beverly Hills. This was months after a ban on same-sex marriages was overturned in California, which was credited to making their wedding legal. The wedding officiator was motivational speaker Wayne Dyer. The guest list was small, with only 19 people in attendance. The reception offered vegan dishes, along with a vegan red velvet cake. The couple wanted a much larger wedding but opted for a smaller one.
Even as they exchanged their vows at home, the couple still had an elegant and sublime fashion ensemble designed by Zac Posen. De Rossi wore a tulle ball gown with a blush pink skirt. DeGeneres wore an ivory blouse, waistcoat, and trousers. Having invested all that time and effort certainly paid off, as the couple is slated to celebrate their 13th year of marriage.
Elton John and David Furnish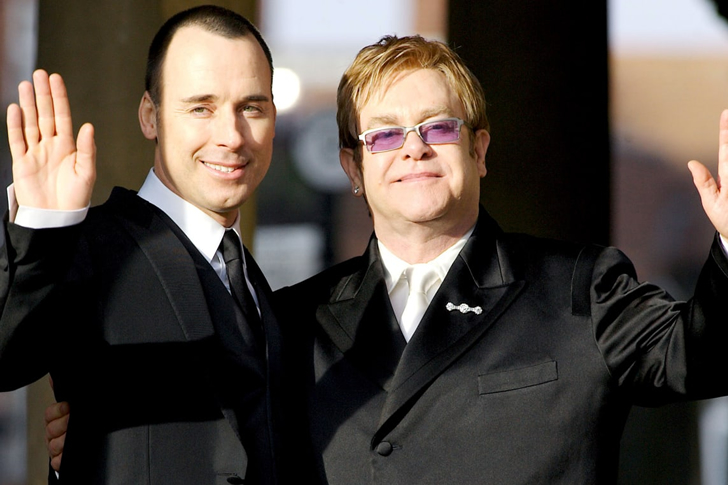 Aside from being a highly successful musician, Elton John has been known for his long and colorful love life. While he had many partners over the years and seemed to never be able to make an investment towards settling down, David Furnish came along. After they first met in 1993, they started to be romantically involved. Shortly after same-sex civil partnerships were made legal in the UK, the couple became one of the first to form one in 2005. Nine years later, they tied the knot after same-sex marriages were legalized in the UK in 2014.
At their wedding, the couple's wardrobe was quite sleek and sophisticated. Both wore black suits, with the only difference being their inner shirts. Furnish wore a pink inner shirt while John wore a black inner shirt. Based on the photos from their wedding, their two sons were right beside them as they exchanged vows.
Emily Blunt and John Krasinski

When Emily Blunt first met John Krasinski in 2008, it was love at first sight. Shortly thereafter, they started dating and in 2009, got engaged. In 2010, they tied the knot in an outdoor ceremony at George Clooney's estate near Lake Como in Italy. According to Krasinski's representative, the ceremony was casual and Clooney and his then-girlfriend, model Elisabetta Canalis, were the only notable people known to have been in the wedding. The couple held their wedding there to keep it private. Krasinki's ring to Blunt was a 3-carat diamond and platinum ring worth $100,000. The ring alone is an investment in and of itself.
While details about the wedding were scarce, what is known is that Emily Blunt's dress was absolutely beautiful. According to US Weekly, Blunt's wedding dress was a custom-made cream chiffon sweetheart draped Marchesa gown with details that were embroidered.
Emma Stone and Dave McCary

Amidst the coronavirus, love prevails. Emma Stone and her fiancé, Dave McCary, secretly wed sometime in April or May 2020 after canceling initial wedding plans in March of the same year due to the pandemic.Emma Stone is known to be private about the intimate details of her life, and that includes her relationships. Emma and Dave met at the set of SNL in 2016. They worked together on a skit, and since then, they were often spotted together. Come 2019, the two started attending events together without confirming their status.
They surprised everyone when Emma posted a photo of her wearing a pearl engagement ring in December 2019. As their supposed wedding in March was put on hold, rumors of them getting married started when she was noticed wearing a gold ring instead of her pearl engagement ring during an interview in May 20220. In January 2021, news of Emma's pregnancy emerged as she was seen with a baby bump. Without confirming the news, Emma delivered their baby in March 2021 and along with her husband, are now investing in home security system for their little one.
Faith Hill and Tim McGraw

Faith Hill and Tim McGraw are the country music royalty couple celebrating 25 years of marriage this 2021. As we look back, let us revisit how their wedding dresses complimented their country-style lifestyle.
Faith Hill and Tim McGraw got engaged in June 1996, and by October 6, 1996, the couple said their I-dos. It was not a usual wedding, in fact, it was a surprise wedding for their friends and families. The couple invited their guests for a softball game in Rayville, Louisiana. The moment of surprise kicked in when the couple stood under a tree with a minister. Faith was in a body-fitting white wedding dress matched with gloves and pearls and walked barefooted, while Tim wore jeans and a black coat. It was a simple and intimate wedding that didn't require much investment, yet it was meaningful and long-lasting. Now, the couple has three children already, and they often reminisce about how they ended up marrying each other.
George and Amal Clooney

When George and Amal Clooney announced that Venice is the venue of their wedding, many believed that it was going to be the wedding of the century. Like many thought, it was indeed a celebration of love and glamour attended by a stunning degree of high-profile personalities such as celebrities like John Krasinski, Emily Blunt, Matt Damon, and Cindy Crawford. As many fans looked forward to knowing who wore who, the anticipation is doubled for the bride's look as well as the groom's suit.
The couple held separate events for the wedding ceremony and civil wedding. On the 27th of September 2014, Amal and George got married at the Aman Canal Grande Hotel. George wore a black Giorgio Armani Suit paired with his white gold Omega watch, while Amal looks stunning in her off-shoulder lacey wedding gown. Designed by Oscar de la Renta, the floor-length cream-colored dress was embellished with pearls and diamond studs. For the civil ceremony that happened on the 29th of September 2014, Amal wore a white Stella McCartney pantsuit paired with a wide hat. While George sported a classic dark-colored suit to match the event.
Hoda Kotb and Joel Schiffman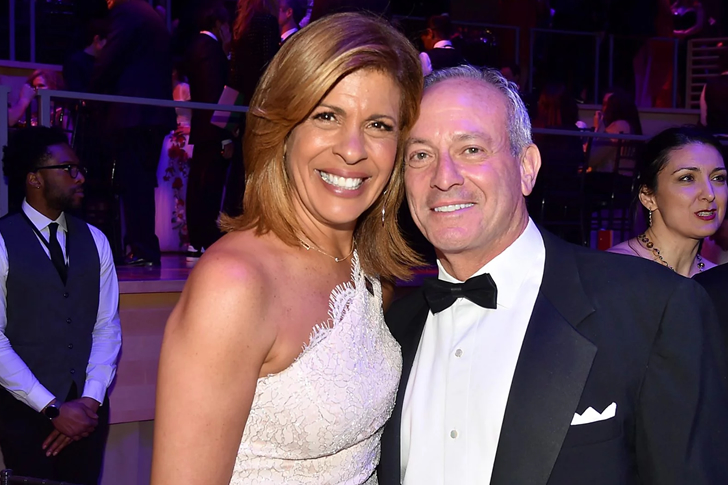 The Today host, Hoda Kotb, announced in 2019 that she got engaged to her boyfriend, Joel Schiffman. As such, Hoda said that they will not wait long and has set a date in 2020. Apparently, their wedding got derailed due to the pandemic.
The 56-years-old host TV personality has announced in February 2021 that they will push through the wedding in the summertime for a beach wedding, and it will be somewhere around New York. Accordingly, Kotb shared that due to the situation, it will be more intimate than expected. As for the other details of the wedding, Kotb shares that there is no dress code and guests can come as they are. Kotb has not revealed her dress yet but hinted that her mother will pick her dress. Kotb credits her mom for helping her style her everyday look and picking up her first wedding dress.
Hugh Jackman and Deborra-Lee Furness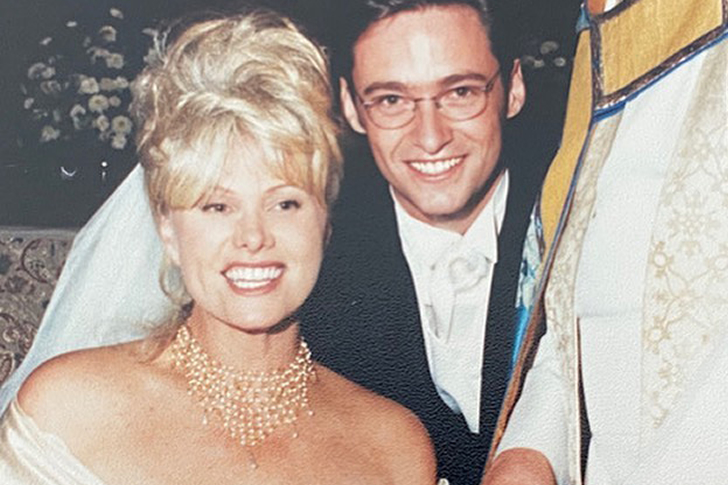 Just in time for the topic, Hugh Jackman posted never-before-seen photos of his wedding with Deborra-Lee Furness 25 years ago. The said photos were to commemorate their 25th wedding anniversary on April 11, 2021. As such, the sweet gesture of the actor garnered much approval from his followers, but it was Deborra who stole the show.
People can't help but notice Deborra's choice of outfit for her special day – a pantsuit! Bizarre, as it might seem, still, many credit Deborra's fashion sense. This kind of wedding dress has become a popular choice in recent years, and it just proves that Deborra was ahead of her time. Deborra incorporated classic and modern touch to her wedding dress. She wore a champagne-colored satin pantsuit paired with an off-shoulder top. Her choice of accessories is a chocker to highlight her baring shoulder. As for Hugh, his outfit of choice is a dark tuxedo.
Jennifer Garner and Ben Affleck

Jennifer Garner and Ben Affleck were once a picture of relationship goals. From the way they look at each other to their parenting styles, it seems so flawless and surreal. Yet, their marriage came to an end after ten long years of working hard on it. While nobody knows what really went wrong, the ex-couple maintained a good relationship even after their lawyers handed their papers to the court.
Looking back, Jennifer and Ben tried hard to make their relationship work, which includes keeping the private details of their relationship for themselves. Accordingly, the couple wed on an island at Turks & Caicos in June 2005 with only them, a witness, and Victor Garber, who officiated their wedding. Jennifer wore a white A-line wedding dress and a veil. The dress was floor-length with a princess-cut neckline. Ben, on the other hand, wore an off-white suit and black shoes. As such, the couple sealed their marriage with a kiss, hug, and a quick dip in the water. Not long after, their first daughter- Violet Affleck came, and then the rest is history.
Jerry and Jessica Seinfeld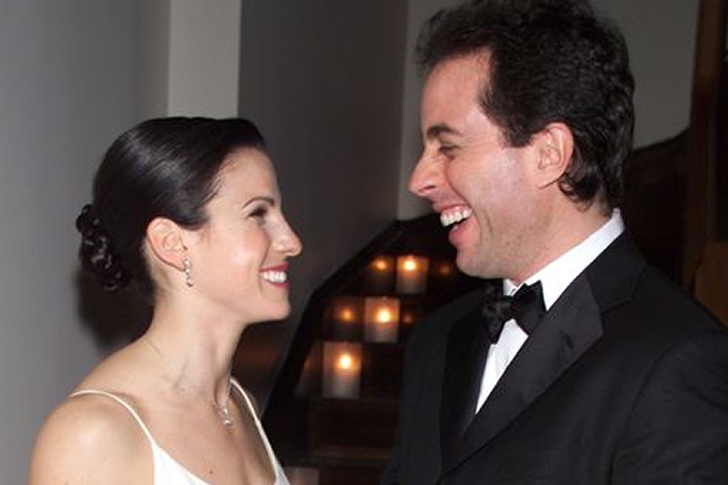 For over two decades, Jerry and Jessica Seinfeld continued to have a stronghold on their marriage, proving that they made the right choice of marrying each other.
Jerry and Jessica Seinfeld had a rough start to their relationship when they began dating in 1998. Jessica was still married when she met Jerry at a gym. Not knowing about Jessica's situation, Jerry tried to connect with her. As Jessica decided to leave her first marriage, it resulted in unfavorable comments and criticism about their relationship. Not wanting to gain attention from the media, the couple decided to have a secret wedding in December 1999. Reportedly, the couple had their wedding in New York City with only 40 guests attending. Additionally, they informed their guests of the location at the last minute before the event. As the couple celebrates 21 years of marriage, they credit laughter and humor as the secret to their lasting marriage.
Jessica Alba and Cash Warren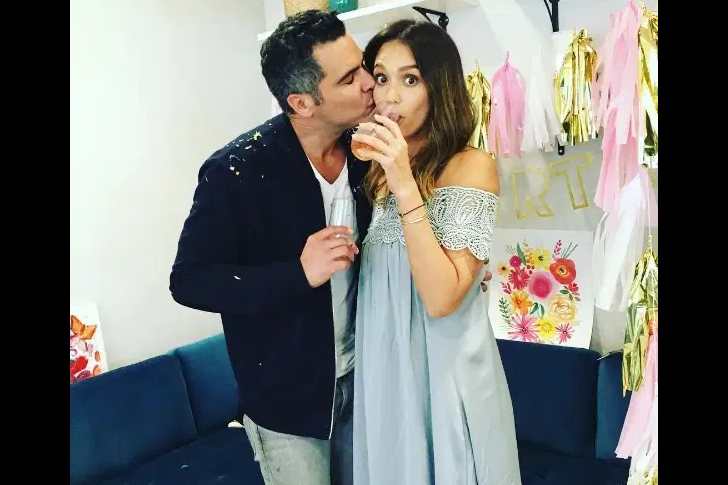 Among the brides who ditched the white dress for their wedding is Jessica Alba. In May 2008, the couple eloped and had a courthouse wedding attended by just four people – including them, the officiating officer, and a clerk. Reportedly, Alba and Warren just wore casual clothes. Alba's choice of wedding dress is a long blue dress, while Warren wore brown pants over a white shirt. After the wedding, the couple threw a party at their home to celebrate with their family and friends.
Eleven years after their wedding, Warren threw a sweet message to his spouse, telling her that she deserves more than an impromptu wedding, but it was their marriage that counts. Jessica and Warren met on the set of the Fantastic Four movie in 2004, where Warren earned credits as the producer. The couple also confessed that getting married was not in their plans as they feel it was not a requirement and would not like to conform to social norms.
Jimmy Fallon and Nancy Juvonen

What drove Jimmy Fallon and his wife, Nancy Juvonen, to marry in a snap had nothing to do with being followed by paparazzi or their social views. According to the couple, they are all for weddings, except they couldn't get through the stress of wedding preparation.
Jimmy and Nancy came up with an idea of a low-key beach wedding when they talked about their dream destination. At the end of their conversation, they figured to have their wedding on the private island of Sir Richard Branson in Necker Island. Additionally, instead of next summer, the couple wed on December 22, 2007 – shortening their preparation for less than a month. As such, their wedding dress is not so fancy. Nancy wore a haltered white dress, and Jimmy sports a coat and tie. However, some of their relatives are pissed about their decision and opt not to attend. Nonetheless, it was a perfect wedding for the couple – less stressed, intimate, and did not cause them to get loans.
Jimmy Kimmel and Molly McNearney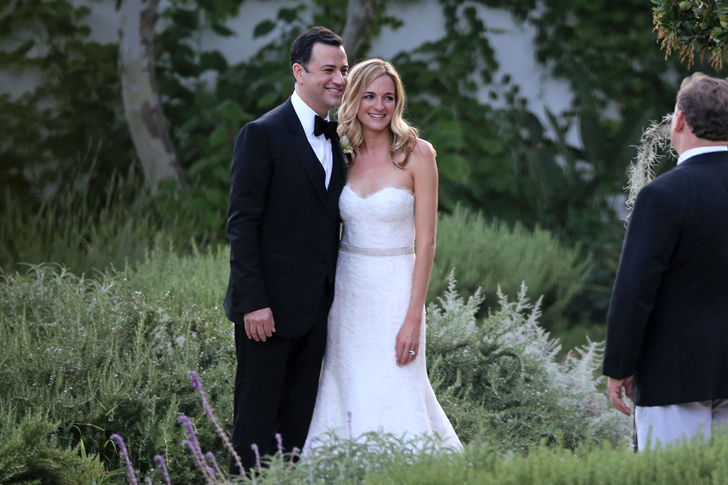 On July 13, 2013, Jimmy Kimmel and Molly McNearney tied the knot in front of their star-studded guests and family. The two started dating in 2009 after merely years of working together.
Molly is the co-head writer of the Jimmy Kimmel Live show. The two were not really into each other. According to Molly, Jimmy's first words to her are insults. As they get to know each other, Jimmy fell in love with his writer. After three years of dating, Jimmy asked Molly for marriage during their trip to South Africa, and in less than a year of being engaged, the couple tied the knot. On their special day, Molly chose a strapless mermaid style dress for her wedding gown styled with a sweetheart neckline and diamond-embellished belt for extra sparkle. For Jimmy, a dark tuxedo and bowtie were his wedding look. The couple got married in Ojai, California. The wedding is a feast. It was overflowing with a variety of food and drinks for its 300 guests. As such, the couple must credit their wedding planners for making their wedding day perfect.
John Legend and Chrissy Teigen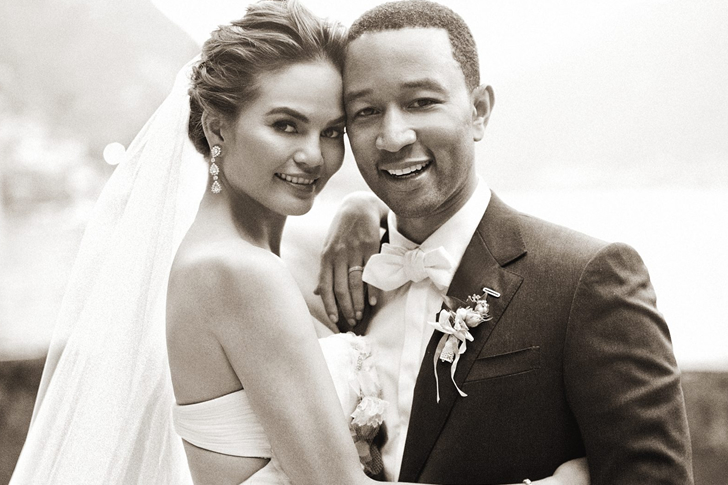 Wedding nowadays entitles the bride to be as fashionable as she wants since it is her special day. While some go all out for an extravagant white dress and some take it up a notch by wearing a different dress for the reception, Chrissy Teigen does both and even wore three dresses for the occasion.
Looking back at the beautiful and romantic wedding of John Legend and Chrissy Teigen in September 2013, the picture-perfect was composed of the beautiful sceneries of Lake Como, Italy, blush-themed flower arrangements, and Teigen in her ball gown dress. Teigen chose a Vera Wang strapless, back-baring, and tulle ball gown for the ceremony. For the reception, Teigen changed to a mermaid-style body-fitting pleated dress with organza for its tail. For the after-party, Teigen ditched the whites and switched to a crimson-colored mermaid style dress. As for Legend, he is fine strutting with his dark-colored tux although the night. Teigen credits Vera Wang for her beautiful dresses that are now in the style books of every wedding magazine.
Julia Roberts and Danny Moder

We have seen Julia Roberts in a bridal gown multiple times in her movies. As such is her iconic off-shoulder dress in the film Runaway Bride that has become a peg of brides for years. Apparently, at her real-life wedding with Danny Moder, Julia chose not to publicize her dress, and more so, had a surprise wedding at her private estate in New Mexico. It was inevitable as Julia and Danny were scrutinized for their relationship that involves Danny leaving his first marriage. As such, the couple decided to make their relationship private since then.
On July 4, 2002, Julia Robert and Danny Moder locked the deal forever. Present were 60 of their friends and family only. The solemn ceremony warrants the couple for a simple wedding that does not require them for cash loans. For the occasion, Julia's choice of dress is a soft pink haltered dress with pearls and beads and sheer hand-painted flowers. Danny wore a ruffled shirt in red-colored paired with light brown pants. Now, the couple is celebrating their 19th year of marriage, proving that they have stood the test of time all the while raising three children away from the spotlight.
Justin Timberlake and Jessica Biel

Gone are the days when brides are strictly to wear a white dress. Now, women have the liberty to express themselves however they want during their wedding day. In every way, it is their special day! Just take a look at Jessica Biel's pink wedding dress she wore at her wedding. Stylish, but still very bride-y.
Justin Timberlake and Jessica Biel have been on an on-off relationship since 2007, not until the singer put a ring on Jessica's finger in 2011.
The couple wed in October 2012 in Puglia, Italy. Their wedding must be so fun that it concluded at five in the morning. Speaking of fun, Jessica is a picture of fun and elegance with her pink with hints of a white strapless gown with layers of sheer cloth for a ballgown effect. Giambattista Valli earned the credits for her wonderful gown creation as well as dressing the whole female entourage. Justine did not take the back seat and shine at his own rights. First, he chose Tom Ford to make his suit and tie, which he also helped design, and he sang for his bride while she walked down the aisle.
Kevin Bacon and Kyra Sedgwick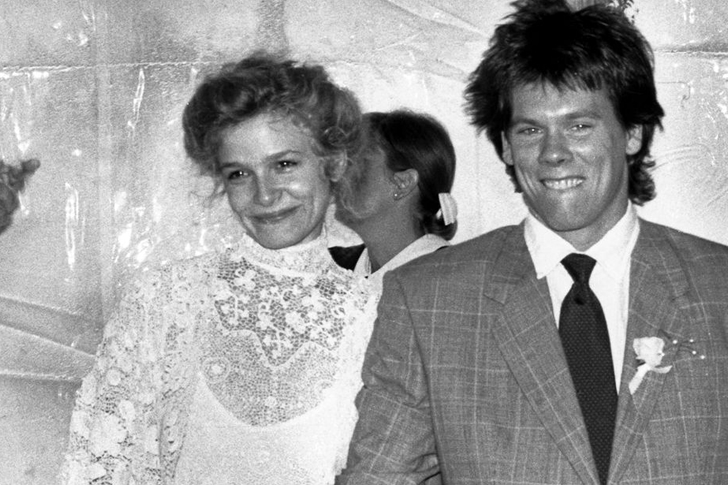 It has been 32 years since Kevin Bacon and Kyra Sedgwick tied the knot, but their love is timeless, as is their choice of wedding dress.On September 4, 1988, Kevin and Kyra said their vows amidst their young age and career. At that time, Kevin was 23 while Kyra was just 21 – ages that typically know little about investment planning. Though the couple admits that they made a hasty decision, time proves that their choice was worth it. And speaking of choice, their choice of wedding dress is commendable.
Kyra's choice of wedding dress spells timeless elegance as she wore a high-neck long sleeves crocheted white wedding dress. Kevin's choice is a statement of style and class as he wore a plaid suit over a white shirt matched with a polka dot tie. The couple was not shy to admit that they fought a lot, but that was part of marriage, as they say, and it helped them grow and understand each other for them to reach today still holding hands.
Kim Kardashian and Kanye West

When you say lavish wedding, Kim Kardashian and Kanye West must have it to the top. Remembering their May wedding in 2014, the couple flew to Italy with their guests of over 200 and had a fabulous week to celebrate their wedding day.
From having a bachelorette party at Hotel Costes to dining at the Chateau de Wideville of famous designer Valentino Garavani, the couple did not stop showering their guests with luxuries to the last minute. For the wedding ceremony, they flew their guests to Florence from Paris with their two chartered jets. To top it all, the bride and the groom and their little North West wore a Givenchy dress for the wedding. On Kim was a close-neck long-sleeve lace dress mermaid-style dress with a sheer back that speaks modesty and sexiness at the same time. Additional pieces such as a pearl-embedded belt and long veil completed the bridal gown. Kanye has a tailor-fit dark suit over a white shirt and a bowtie. As we total the cost of their big day, Kanye and Kim spent a whopping $2.8 million, excluding the week they spent in Paris! Due to this and a variety of other reasons, it came as no surprise since Kim and Kanye are known for their fabulous lifestyle. Anyways we all know that their credit score can totally afford the said wedding— and the separation which is now in progress.
Kym Johnson and Robert Herjavec

Kym Johnson and Robert Herjavec have been married since 2016. They met during the
taping of Dancing with the Stars where they were paired up. After the encounter, they started dating and got engaged ended up being married.
Even when it has been five years since they tied the knot, many can still recall their beautiful wedding. It seemed like Herjavec, known to be big in investments and business, set a huge amount of cash for the grand wedding. Johnson, who is a professional dancer, wedded the businessman at the Four Seasons Hotel in Beverly Hills. They also hired Michael Russo to plan the whole wedding. John looked every inch a regal bride when she wore a strapless designer gown by Monique Lhuillier. Meanwhile, the groom looked equally dapper in the Tom Ford ensemble. The look on the couple's certainly showed how they are in love with each other.
Mandy Moore and Taylor Goldsmith

Mandy Moore's wedding dress is what every pink lover wishes to wear on their wedding day. The This Is Us actress married Dawes lead singer Taylor Goldsmith in November 2018 in a secret boho-themed wedding in Moore's Los Angeles home. For Moore's second shot at marriage, the singer and actress revealed that she just wants a simple gathering. She no longer aspires to spend multimillions of cash for a wedding, which can just be saved as investment money for the future.
The Cry hitmaker wore a Rodarte creation pink tulle dress with embroidery that featured ruffled tiers. It has a collared neck and Swiss dots that looked perfect for the blooming bride. Moore paired her gown with a veil created by Rodarte's Mulleavy sister, and she then was styled by celebrity stylist and friend Cristina Ehrlich. Meanwhile, the groom looked dapper in his suit, complete with a boho-themed corsage that matches the bride's bouquet. Moore and Taylor were both beaming with joy as they shared their intimate wedding with family and close friends including Dawes band maters and This Is Us co-stars. The couple took their reception at Highland Park where they danced and sang the night away.
Matt and Luciana Damon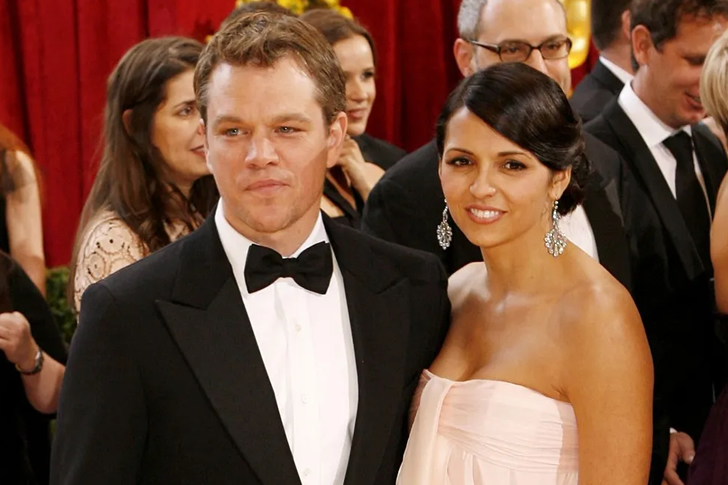 Luciana Damon, the wife of A-list actor Matt Damon, was working on regular jobs to pay electricity and rent bills in Miami when she met the Bourne Legacy actor. It was in 2003 when the actor was filming the movie Stuck on You, and he and his crew spent a night in the bar where Luciana was working as a bartender. Fast forward to 2005 and they were newly-wed couples, with their vows being renewed a little over half a decade later in 2013.
For the renewal of their wedding vows, the couple spent a huge amount to rent the luxurious hotel in Saint Lucia, reportedly amounting up to $600,000. Even with this whopping amount, this will not seem to make a dent in Damon's fortune. Matt has a net worth of $170 million so it will not come as a surprise that they were able to spend such an amount.Luciana exchanged vows with Matt for the second time in a lovely striking blush-color draped tulip gown which was first featured in Naeem Khan's fall 2013 ready-to-wear collection. Their daughters Isabella, Gia, Alexa, and Stella also wore matching custom Naeem Khan dresses for the occasion. The action star meanwhile donned his regular good-looking features in a black suit.
Meryl Streep and Don Gummer

Meryl Streep and Dom Gummer have been together for more than four decades. Gummer came into Streep's life shortly after the actress lost her then-boyfriend John Cazale in 1978. They then met through Streep's brother, who was a friend of Gummer's.
Gummer helped her cope with the grief while they develop a budding romance. Soon after, Streep moved into Gummer's apartment and stayed there while filming her Oscar-winning role for Kramer vs Kramer. By September of the same year, they tied the knot in the parents of Streep's home garden, a simple ceremony that needs no huge amount to shell out.
The couple decided for a quick and intimate wedding, deciding to forego any lavish wedding. As the couple builds their respective career, it seemed to be a wise money management decision to set aside their income for future use. It was not revealed what certain clothing the actress wore, but she sure looked lovely and beautiful as she exchanged vows with her husband. Streep would continue her career as one of the rising stars of Hollywood while Gummer carved his name as a sculptor.
Neil Patrick Harris and David Burtka

Neil Patrick Harris and David Burtka are one of Hollywood's most-loved couples since they married in 2014. The couple met in 2003 in New York through a common friend. While Burtka first assumed that the How I Met Your Mother actor was dating his friend, he eventually made the first moved after finding out that Harris was single.
Instead of shelling out a huge amount of fortune for a lavish wedding which they can do without breaking the bank or having to make cash loans, the couple decided to have an intimate ceremony in Italy in front of their family and close friends. They did not announce the wedding before the ceremony and only revealed their union the weekend after. Harris and David wore custom-designed Tom Ford tuxedos on their intimate occasion, with both looking loved-up as they exchanged their vows. Their fraternal twins Harper and Gideon were also present, as well as Sir Elton John who made a performance during the reception.
Nick Offerman and Megan Mullally

Nick Offerman and Megan Mullally have been married since 2003. They both got married in Mullaly's home in Beverly Hills with only 20 people attending the intimate event. They somehow hit two birds in one stone as the wedding was also a party in time for the Emmy Awards. It was also the day when the Will & Grace actress attended the Emmy awards where she has a nomination. Despite losing in the award-winning body, Mullaly's day was still special as she wedded Offerman, her boyfriend of three years.
Mullally wore a red carpet ensemble to her wedding. She wore a simple white bustier top paired with white slacks. She also topped her ensemble with a white coat. Although it was not a regular wedding dress just like what other brides opt to go for, Mullaly was still beaming with love and excitement as she exchanged vows with the actor. Being married for more than a decade, Offerman and Mullaly have both mastered the art of a great marriage. They give credit towards their trust in one another for their long, married life. decided to ditch their wedding secrets in their book The Greatest Love Story Ever Told: An Oral History.
Nicole Kidman and Keith Urban

Nicole Kidman and Keith Urban are looked up to because of their love story. They met in 2005 and married in the summer of the same year, at the time when Urban was dealing with a substance dependency problem. For the rock star, marrying Kidman was the signal to start a life. The two since welcomed daughters Sunday Rose and Faith Margaret
Kidman and Urban tied the knot in Australia, in a traditional Catholic ceremony at a clifftop. The wedding was star-studded and lavish, which seemed to have costed major investment money for both of them. The Big Little Lies actress was a glowing bride in a Balenciaga wedding gown which highlighted her feminism. The stunning star's dress was made by designer Nicolas Ghesquière, which features a statement puff sleeve on one shoulder, and has a trimmed ruffle.
Nicole Richie and Joel Madden

Nicole Richie and Joel Madden are one of the best couples that came out of the 2000s. Richie was then a reality star for The Simple Life with Paris Hilton when she met Good Charlotte vocalist Madden. They married in 2010 in a simple home wedding ceremony. The two decided to save on venue expenses and held the ceremony at her father Lionel Richie's estate located at Beverly Hills. They must have saved a lot of cash and spend it on future investments. Attending the wedding are 150 guests, including their family and relatives, co-stars, and other prominent personality.
Richie wore three various gowns for the ceremony and the reception which were all created by Marchesa. The fashion designer and reality star, who was beaming with the glow that day, decided to go for a white ensemble for the ceremony and changed for another white frock for the rest of the night.
Pierce Brosnan and Keely Shaye Smith

Pierce Brosnan and Keely Shaye Smith are celebrating their 20th year of being husband and wife. The A-list actor, whose fame was gained after he took on the role of James Bond in several movies, married Smith in 2001 in what was said to be one of the most lavish weddings of Hollywood. With his net worth of $200 million, it does not come as a surprise that the actor can fund their wedding in Cabo San Lucas. Seeing as this was their big day, they didn't hold back on their wedding investments.
Smith, on the other hand, was a stunning bride fit for such a luxurious event. She wore a dress made by Richard Tyler that was decorated with encrusted peals. Smith completed her look with a French lace coat that was embellished with hand-sewn freshwater pearls. Her whole wardrobe was said to cost her $60,000.
Prince Harry and Meghan Markle

In 2018, the world witnessed yet another dreamy royal wedding with the union of Prince Harry, a member of the British royal family, and Meghan Markle, former Suits actress, and advocate. The two tied the knot at St. George's Chapel at Windsor Castle.
We all know that royal weddings and their ensembles seem like an investment that would go down history. Markle worked closely with British designer Clare Keller for her wedding dress, which was created under the label of luxury brand Givenchy. Markle changed her classic wedding dress into a casual long white gown designed by Stella McCartney. It was a high-neck gown which was less traditional than the dress she wore during the ceremony. As for the Prince, he donned a suit from Gieves & Hawkes, the brand which has been the Royal Family's tailor for generations. The cost of the wedding dresses was not revealed but given the brands that created these ensembles, it surely cost multi-millions overall.
Prince William and Kate Middleton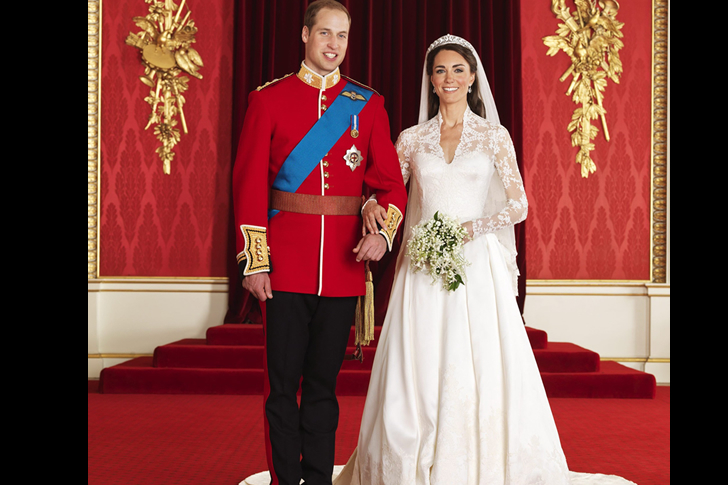 Prince William and Kate Middleton's royal wedding is like a modern fairytale occasion. Millions of viewers from all over the world were glued to the screens as they witness a royal wedding unfold. Prince William, the heir to the British throne, has married college schoolmate Middleton in 2011.
The Duchess of Cambridge chose Alexander McQueen's fashion designer Sarah Burton for her lace-filled wedding gown. The Victorian-inspired dress featured traditional and modern designs, which further highlighted the stunning beauty of Middleton during the wedding day. Middleton's younger sister Pippa helped the Duchess in carrying the 70-centimeters long train. Middleton borrowed the Cartier Scroll tiara of Queen Elizabeth II during the occasion, which was an inheritance from King George VI for Queen Mother in 1936. She also wore a second gown for the reception, which was also given credit to Alexander McQueen. On the other hand, Prince William donned a red uniform of the Colonel of the Irish Guards.
Robert Downey Jr. and Susan Levin

Robert Downey Jr., wedded producer Susan Levin in 2005. Levin's first work started with the 2003 thriller Gothika, which Downey Jr. credits as his saving grace, amidst his battle against substance dependency and other health conditions. This is also where the couple met, although they both admitted that it wasn't exactly love at first sight. Ironman superstar said that Levin changed his life for the better and has been his rock all through these years.
And two years later on August 27th, 2005, Downey Jr. and Levin tied the knot in Amagansett, NY. It was a well-attended event where the couple wore matching wedding ensembles with a lilac motif. Levin looked royal in a silk v-neck gown topped with a sheer veil. She carried with her fresh bouquet as she held Downey, Jr.'s hand. The actor meanwhile wore a suit topped with a lilac-colored scarf. He also wore sneakers for the occasion. The A-list Hollywood couple is blessed with two kids and are celebrating their 16th year as a married pair in 2021.
Sarah Jessica Parker and Matthew Broderick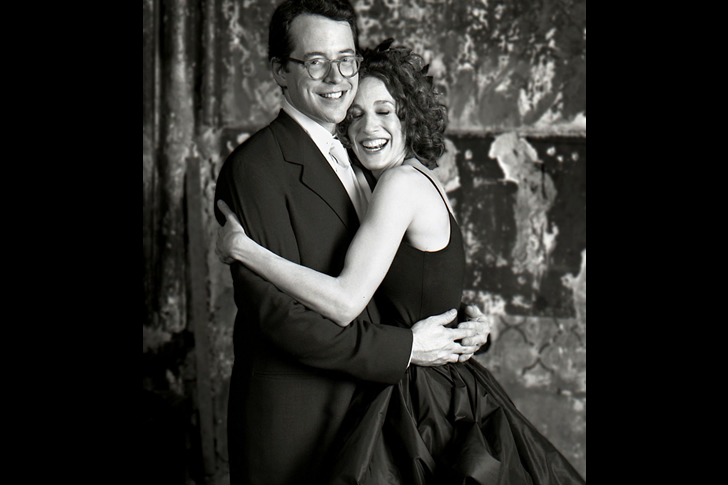 Sarah Jessica Parker and Matthew Broderick have been together as a married couple for over 20 years. They met in 1991 and were wedded in a low-key wedding during 1997. Parker and Broderick decided to forego spending on wedding invitations for their guests and surprised them with a wedding ceremony and reception in New York. What was announced as a mere party ended up as a reception of over 100 guests in New York's Angel Oresanz Synagogue.
The Sex and the City actress wore a black ruffled Morgane Le Fay dress instead of using her credit card to buy a white wedding gown which would surely catch attention. Since then, even before Parker became a fashion icon as Carried Bradshaw in the hit series, she was the talk of the down for setting a trend in having a black dress for a wedding.
Sarah Michelle Gellar and Freddie Prinze Jr.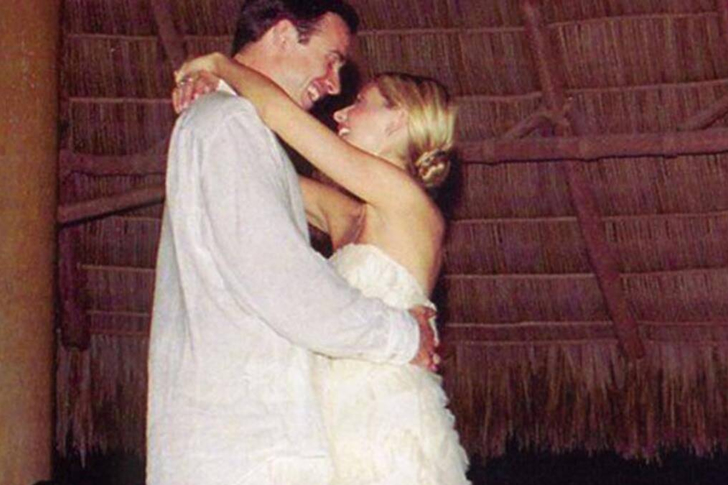 Teen star and Buffy the Vampire Slayer actress Sarah Michelle Gellar tied the knot with Scooby-Doo actor Freddie Prinze, Jr. in 2002. They are regarded as one of the best teen couples in the '90s and fans still swoon over their love story 19 years after their marriage.
The couple tied the knot in a bohemian Mexico beach wedding and invited 60 guests. Their four-day destination wedding was a blast despite a storm. It did not stop other celebrities to celebrate their nuptials well including Wilmer Valderrama and Dull Hill. Gellar was in every degree, a stunning bride, wearing a strapless Vera Wang gown. She kept her tresses pulled back in a low chignon, showcasing her lovely bridal glow. Prinze, Jr., meanwhile decided to go for a SyDevore white linen suit. He then changed into a boho-themed ensemble for the dinner party.
Serena Williams and Alexis Ohanian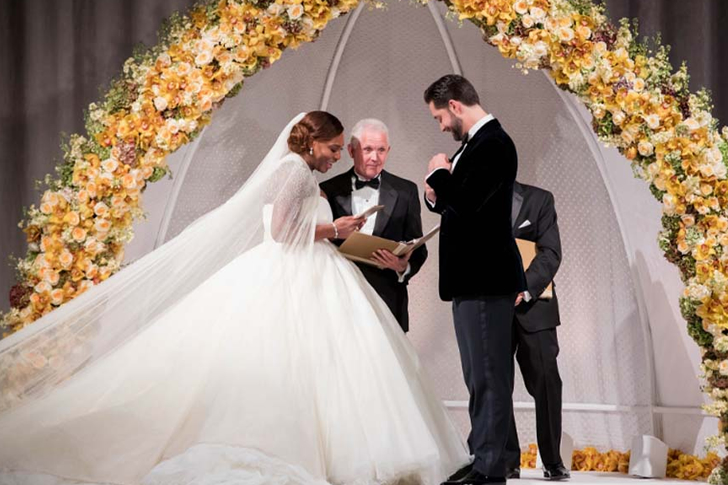 Serena Williams and Alexis Ohanian exchanged their wedding vows in 2017 at a lavish ceremony in New Orleans. The tennis superstar wedded Ohanian, a businessman known for his tech investments and paid paternity advocacy. By the time the couple tied the knot, they already had a baby.
Williams donned an Alexander McQueen ball gown for the ceremony. Her baby Alexis, who was then just a couple of months old, also wore a tiny white dress for the occasion. For the dinner party, Williams changed her massive frock into a Versace number, which was decorated with beads and feathers. The Olympian legend showcased the gown as she danced with his groom during the afterparty. To make herself even more comfortable, Williams ditched her heels to a pair of crystal-embellished Nike Cortez sneakers so that she and her groom can dance all night. Without a doubt, the dreamy wedding night was everything the tennis player could wish for!
Seth Meyers and Alexi Ashe

Seth Meyers and Alexi Ashe went to great lengths to push through their wedding in 2013. They held the ceremony at Martha's Vineyard— a place that was hard to get on and get off no matter how full your gas tank was. Thanks to their friends whose mantra for that day was "Anything for Seth and Alexi."
Despite the numerous ordeals, the event was a success, and the couple didn't disappoint their guests. Aside from the perfect wedding venue, designs, and food, Seth and Alexi stunned their family and friends with their wedding ensembles. Alexi donned a custom-made Carolina Herrera gown, and the designer even lent her five unofficial bridal party gowns to wear. How generous could she be? Seth, on the other hand, wore a gorgeous custom Ralph Lauren Black Label suit, making him looking very dapper on that day.
Steve and Nancy Carell

Steve and Nancy Carell have been married for about 26 years, making them one of the longest-married celebrity couples in the industry. Although over two decades have passed, the 58-year-old actor can still vividly remember everything that had happened that day. Instead of the wedding dress and the event itself, he recalled that the weather was not ideal at the time. It was 100 degrees hot and humid in Massachusetts, and the church wasn't air-conditioned.
Steve was already sweating bullets, but he forgot everything when he saw Nancy walking down the aisle. The actor's sweating stopped, and he felt calm, thinking that beautiful women would be his partner for life. That moment made Steve felt empowered and even more powerful, knowing Nancy would be part of his life. The Office star knew the first time he met his now-wife that she would be the one for him, and their strong bond proved it's true.
Tom Hanks and Rita Wilson

Tom Hanks and Rita Wilson are among the most famous power couples in Hollywood today. They have been married for about 33 years, defying the negative connotation that comes with Hollywood unions. Decades earlier, the pair appeared stunning on their wedding day. Their happiness could be evidently seen in their smiles, not to mention the excitement of beginning their new lives together.
Despite the credits they received about their long-lasting love, Tom and Rita admitted it wasn't always smooth sailing. The 64-year-old actor revealed in 2001 that the secret behind their relationship's success was timing, maturity, and their willingness to build an "intimate connection." He believed that fate brought them together, but their relationship was far different than what people saw in movies. Despite the issues and trials they had to face, Tom and Rita knew that they would always be with each other no matter what, and they would get through everything.
Viola Davis and Julius Tennon

Viola Davis and Julius Tennon tied the knot in 2003, resulting in 18 years of lovely marriage. The couple proves they will always choose each other no matter what happens and seals it with a vow renewal on their 12th wedding anniversary. The award-winning actress walked down the aisle again in an elegant ceremony over Valentine's Day weekend in 2016.
The couple made a significant investment in beautifying their second wedding with its lavish and classy look. Viola, her mother, and her daughter, who's also her flower girl, all donned white dresses by Carmen Marc Valvo. The place was accentuated with everything white, from flowers to décor, making everything looked perfect. Viola celebrated the special event in a post on Instagram, saying he and her husband felt alive when they're in love, and it seemed true. If there's one thing that Viola knew that she had done well in her life, it's marrying Julius.
Will Smith and Jada Pinkett Smith

Another power couple on this list is Will and Jada Pinkett Smith. Amid the many rumors surrounding their union, the couple manages to remain happy and in love after tying the knot in 1997. Their 24 years of marriage is not easy, we know, but they choose to stay on each other's side.
Will and Jada's wedding was one for the books. It was held at the medieval mansion Cloisters in Baltimore with about 100 guests. The bride donned a shimmering long white turtle-neck gown that made her look ethereal, while the groom wore a pair of a white suit. It was an event no one could forget, especially the lovely pair. Jada was already two months pregnant at the time, and no one knew about it. The next thing they knew, Jaden was born, and they're now a family of four.
You've Reached The End